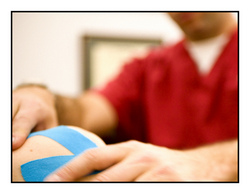 Anything that can help people get better faster I want to be a part of. RockTape Power Taping is going to help me do that.
New York, NY (PRWEB) November 16, 2010
Well-known New York chiropractor, Dr. Steven Shoshany, is again expanding his practice to include a technique a new technique for athletic injury support and treatment called RockTape Power Taping. His practice, Living Well Medical, in the SoHo/NoHo area of NYC has been helping patients resolve aches and pains of nearly any type for years. Located at 632 Broadway between Houston and Bleecker Streets, Living Well has consistently reinvested into newer and better techniques and treatments to relieve and stop pain. Spinal decompression therapy, Active Release Technique, and specialized tools like those in the Graston Technique are a few of the tools that have been brought on for better patient results. Power Taping represents the next step in serving athletes and others with a functional treatment that supports and stabilizes.
RockTape Power Taping is a departure from other kinesiology taping techniques because there is significant focus on what practitioners call "longitudinal anatomy" or the "kinetic chain" - basically, the fact that motion creates a complex series of muscular actions that interrelate. By taking this chain into consideration, rehabilitation efforts avoid limiting range of motion and the resulting stronger activation may improve results. Making note of specific motor patterns and muscle activations aids in more motion-friendly support. Although kinesiology taping methods seek to supporting muscles and joints, Power Taping pays particular attention to the muscles acting together as a complex system to aid in rehabilitation efforts and improve overall performance. In addition, Power Taping has applications that go beyond performance sports and rehabilitation, even being used to help pregnant women support proper biomechanical function.
Injuries and conditions that can benefit from Power Taping's specific methods include:

Shin Splints
Shoulder Instability
Plantar Fasciitis
Achilles Tendonitis
Runner's Knee
Ankle Sprains
Muscle Strains
Limited Range of Joint Motion
Swelling/Bruising
In regard to Power Taping, Dr. Shoshany has been excited to learn more to keep expanding his practice. "Anything that can help people get better faster I want to be a part of. RockTape Power Taping is going to help me do that, I think." Power Taping will officially be introduced in Living Well Medical as part of treatment programs Monday, November 15th or 2010. For more information on RockTape Power Taping and other services offered at Living Well Medical in NYC, call (212) 645-8151.
###