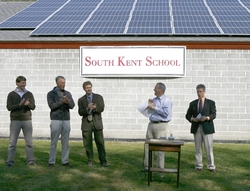 Glenn Cucinell, President of C Solar LLC stated: "We are very pleased and proud to be working with South Kent School. We applaud their efforts to show, in a real time environment the benefits of renewable energy and how it can save valuable resoures.
Westport, CT (PRWEB) November 9, 2010
C Solar LLC announced that South Kent School recently completed installation of its new photovoltaic systems at a ceremony held beside the school's ice hockey rink, where solar panels have been installed on its Wister Fieldhouse.
Andrew Vadnais, South Kent's Head of School, told an audience of students, faculty, South Kent alumni and guests from the Kent community how installation of the solar panels reflects the South Kent's strong commitment to both sustainability as a campus and the preparation of young men for a 21st-century economy.
"Beginning this Fall students and faculty at South Kent have begun implementing portions of a new curriculum designed to engage motivate, encourage, and nurture student creativity, entrepreneurship and commitment to stewardship with a focus on applying those skills to the study of science, art, technology and sustainability," he said.
"We are excited about our mission and the opportunity it will provide for students, faculty, and others who will work closely with South Kent to learn how to solve real world problems," he concluded.
C Solar, a Connecticut-based provider of renewable energy solutions, designed and installed the photovoltaic systems at the School. The school's panels are grid tied and net metered to provide power directly to the buildings on which they are mounted. The system will generate approximately 20,273 kWH annually.
Glenn Cucinell, President of C Solar LLC stated: "We are very pleased and proud to be working with South Kent School. We applaud their efforts to show, in a real time environment, how we can all work to reduce our dependence on fossil fuel and the benefits of renewable energy. This project was especially rewarding as Erik Anderson, our Project Manager, was able to work with SKS student for a day and show them how the photovoltaic system works and how you get energy from sunlight."
Cucinell continued: "Schools can see a real benefit from generating solar power almost immediately. These systems, on the fieldhouse and one of the dormitories, will provide a large share of the electricity used by those buildings."
The panels are American made and will be owned and operated by Star Power, LLC of Southport through a Power Purchase Agreement with the school.
About C Solar LLC:
C Solar LLC is a Connecticut based company with the ability to incorporate various renewable technologies. At the forefront of photovoltaic technologies, C Solar offers custom designed solutions that provide a cost-efficient alternative to traditional fossil fuel based electricity. C Solar has been designing, consulting and installing energy efficient and photovoltaic systems for commercial and residential buildings throughout Southern New England and New York since 2005.
Its mission is to provide its customers with the best solutions to their energy needs by providing unparalleled service and professionalism. C Solar prides itself on the ability to offer a full in-house support team; each member participates in the concept and design phases right through to the final installation and commissioning. Throughout this process, C Solar works to navigate the various State and Federal incentive programs to ensure the most cost effective solutions are utilized in achieving their clients' goals. C Solar LLC's professionals are fully licensed and insured and have the knowledge and experience to handle projects of any size or scope.
C Solar LLC is proud to be a Connecticut company. Its officers are lifetime residents who attended Connecticut schools and colleges. They believe their company will help Connecticut become a leader in developing, manufacturing and implementing new technologies that will drive an independent, sustainable and prosperous way of life without damaging the environment. More information about C Solar is available on the company's website at: http://www.csolarllc.com.
About South Kent School:
South Kent School (SKS) is an independent college preparatory school for boys located in South Kent, CT. Since its founding in 1923, SKS has maintained ties with the Episcopal Church. The school offers an environment that, through living simply, encourages lively and rigorous learning. The school embraces diversity and cherishes honesty, courtesy and compassion. South Kent nurtures in its students, regardless of belief or religious affiliation, a thoughtful involvement with spirituality. SKS welcomes boarding and day students grades 9 through 12 and post-graduate. SKS is accredited by the New England Association of Schools and Colleges.
Media Inquiries:
Peter Barhydt
Aberdeen Associates, Inc.
W 203-618-1709
C 203-252-4768
peter.barhydt (at) aberdeenassociates (dot) com
###