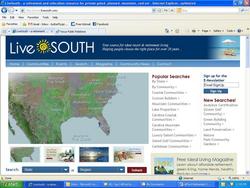 Can I afford to stay here in retirement?
Wilmington, NC (Vocus) November 8, 2010
As people in the northeast brace for winter, many baby boomers in the region about to retire, also brace for higher property taxes and a lot of unanswered questions.
For decades, retirees have moved south for a lower cost of living and warmer winter weather. Recent trends suggest this to continue, and that cost and affordability rank as top factors too.
A recent Star Ledger, Newark, NJ, article said, the so-called "millionaire's tax" is just the tip of the iceberg for many. Already taxed as the highest property owners in the country, New Jersey is just one example of an exodus to lower taxes and reduced cost of living for northeast residents. The question 55 and older people face is, "Can I afford to stay here in retirement?"
"It's not just about better weather anymore," said Dave Robertson, Editor, Ideal Living Magazine "Many families can no longer afford to stay in their homes after retirement."
Robertson said, "A 30 year old, 1,800 square foot home in Parsippany, NJ for example, has annual property taxes in excess of $15,000. Add to that $1,000 per month maintenance, lawn care, snow removal, and utilities and the total amount required just to keep a debt free home easily exceeds $36,000. For couples earning more than $200,000 gross, pre-tax income its no problem, but when they retire and only receive a $60,000 a year pension, they may not be able to afford to live as they did with so much required to keep that older home."
"A person who relocates to say Wilmington, NC, will save, on average 44% off their cost of living and tax burden, making their pension go further and helping them to live more comfortably" adds Robertson, "The good news is that many people can use their home equity to buy a nicer, new home, lower their cost of living, get better weather and have money left."
North Carolina's is not the only place attracting the migration. A Forbes.com article by Jon Bruner, "America's Money is Heading South," listed the top 5 counties, based on IRS data; 3 are in Florida. Collier County (Naples) is #1, with Nassau County (south of Jacksonville) # 3 and Walton County, FL (5th) respectively. Greene County, (Lake Oconee) GA is #2.
Visit http://www.LiveSouthShows.com and RSVP to attend a free event in your area and get more information to improve your lifestyle. Or call 800-736-0321 to get a complimentary issue of Ideal Living and order a Choose the Right Place guide with cost of living, tax, and weather comparison charts $2.95 + sh & hand.
LiveSouth.com, Ideal Living Magazine and Live South Shows have helped connect communities with retiree and 2nd homebuyers since 1989. They provide comprehensive resources for finding and comparing; golf, gated, waterfront, mountain, retirement, and multi-family communities around the south.
###