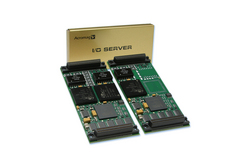 "Adding these 1553 bus interface modules to our line of high-density I/O gives designers of aerospace and defense subsystems more options for size, weight and power in modern embedded computing systems," states Joe Primeau, sales and marketing director.
Wixom, MI (PRWEB) November 10, 2010
Acromag has released new MIL-STD 1553 bus modules to interface avionics and weapons subsystems to an embedded control system. Two versions of the 1553 bus interface module are available. The IP570 is an Industry Pack ANSI/VITA-4 card that plugs into VME, CompactPCI, and PCI bus mezzanine carrier cards or high-performance single-board computers. IOS-570 models are designed for use within Acromag's I/O Server industrial PC, a small fanless box computer. Both 1553 bus modules offer the choice of one or two interface channels. A DDC Micro-ACE device controls the 1553 interface. Extended temperature models support -40 to 85°C operation. Single quantity pricing starts at $1695.
The 1553 bus is extremely popular for integration of flight control and vehicle management (electrical, hydraulic, environmental control) subsystems. This venerable communication standard is also regularly used for missile system testing, air traffic control system testing, on-board aircraft system monitoring, satellite test systems, and aircraft simulators. When combined with Acromag's extensive offering of analog, digital, and serial I/O modules, these new 1553 bus modules further extend the ability to interface a wide variety of devices from a single computing platform.
All models feature a DDC Micro-ACE bus terminal that supports both MIL-STD-1553 revision B and MIL-STD-1760 transceivers, as well as the STANAG 3838 protocol. Users can choose from models with one or two complete dual-redundant interface channels. Each channel can be wired for either direct or transformer coupled operation and operates at data rates of up to 1Mb/s.
The DDC Micro-ACE controller provides a very flexible host-side interface that is compatible with Mini-ACE or ACE architectures and supports multiple configurations (bus controller, remote terminal, or bus monitor). Users get a highly autonomous bus controller with many powerful capabilities and options.
About Acromag
Acromag has designed and manufactured measurement and control products for more than 50 years. They are an international corporation with a world headquarters near Detroit, Michigan and a global network of sales representatives and distributors. Acromag offers a complete line of embedded I/O and industrial computer products for military, aerospace, manufacturing, transportation, utilities, and scientific research applications.
# # #