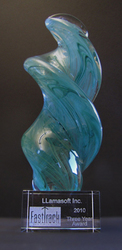 Consistent business growth is an accomplishment to be celebrated
Ann Arbor, MI (Vocus) November 9, 2010
LLamasoft, Inc., the leading provider of supply chain network design software, has been named one of 10 FastTrack companies in Washtenaw County, MI. This is the third consecutive year the Ann Arbor-based company has received the honor.
Administered and funded by Yeo & Yeo CPAs and Business Consultants and Arboretum Ventures, FastTrack was founded in 1997 and is an annual program sponsored by Ann Arbor SPARK recognizing companies in Washtenaw County for outstanding business success.
"Consistent business growth is an accomplishment to be celebrated," said Michael A. Finney, Ann Arbor SPARK President and CEO. "Ann Arbor SPARK applauds the 2010 FastTrack winners for contributing to the success of our region through their growth and leadership."
Over the last three years LLamasoft, Inc. has experienced tremendous growth in revenue and number of employees, and the client-base reads like a Who's Who of the Fortune 500 list. The company has maintained a significant focus on research and development, and is scheduled to release the next major version of its Supply Chain Guru® product late Q4 2010. In addition, the company has tripled its office space square footage, taking residence on the 4th floor of the Ann Arbor's historic First National Bank Building. The company has also recruited an additional 15 new employees to help support its business growth and expanding list of global clients.
"It is truly an honor to be recognized as a mover and a shaker in the Ann Arbor area and some great news for the state of Michigan and is testament to the quality of LLamasoft's software solutions, our innovative approach to helping companies address their Network Design and Supply Chain challenges, and most of all to the talented, dedicated and hard-working team at LLamasoft" stated Myles Romero, Vice President of Marketing.
About LLamasoft
Llamasoft provides software and expertise to design and improve supply chain network operations. Supply Chain Guru® is the leading supply chain strategic planning application available in the market today. It enables companies to model, optimize and simulate their supply chain operations, leading to major improvements in transportation, inventory, sourcing, and production. For more information, visit http://www.LLamasoft.com or contact: info(at)LLamasoft(dot)com.
About Ann Arbor SPARK
Ann Arbor SPARK, a non-profit organization, is the driving force in establishing the Ann Arbor region as a destination for business expansion, retention, and location by identifying and meeting the needs of business at every stage, from startups to large organizations. Ann Arbor SPARK represents all communities in the Washtenaw County. Ann Arbor SPARK collaborates with business, academic, government, and community investor partners including the University of Michigan, Eastern Michigan University, Washtenaw Community College, Michigan Works!/ETCS, Washtenaw County, the City of Ann Arbor, the Bank of Ann Arbor and the Michigan Economic Development Corporation. For more information, please call (734) 761-9317 or visit http://www.AnnArborUSA.org.
LLamasoft Media Contact:
Myles Romero
VP Marketing
LLamasoft, Inc.
201 South Main Street, 4th Floor
Ann Arbor, MI USA 48104
Tel: 734-418-3119 x 115
Fax: 734-418-3138
myles(dot)romero(at)LLamasoft(dot)com
http://www.LLamasoft.com
###