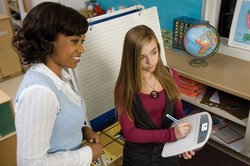 Denton, TX (PRWEB) November 9, 2010
eInstruction, a premier global provider of teaching and learning technology, announced today the finalists of its fourth annual Classroom Makeover Video Contest. The 15 finalists, representing the top video submissions from hundreds of entries from around the world, will be narrowed down to three grand-prize winners by a guest judging panel and through votes submitted by the general public on the contest site.
The three classroom makeover prize packages are valued between $63,000 and $79,000 each, and include educational technology from eInstruction, American Ed Corp A+ Classroom, Calypso Systems, Incredible Kid, Knowledge Adventures, Math Forum @ Drexel, Nectar Foundation, Nettreker Search, Panasonic, Reading Plus and other educational technology companies. Public voting at 2010classroommakeover.com closes on Thursday, December 2, and the winners will be announced on Thursday, December 9, 2010.
The finalists of the 2010 eInstruction Classroom Makeover Video Contest are:
Kindergarten – 5th Grade:

Barbara Bishop's 5th grade English and Language Arts Class from Olive Branch Intermediate School in Olive Branch, Mississippi
Tammy Dunbar's class from Lincoln Elementary in Manteca, California
Regina Ligon's Technology Class from McCornack Elementary School in Eugene, Oregon
Ashley Kizer's class from Adamsville Elementary in Adamsville, Alabama
Ryan Shetler's Technology Class from Crums Lane Elementary in Louisville, Kentucky
6th – 8th Grade:

Imarlys Cajigas' Science Class from WALKS Elementary School in Mayaguez, Puerto Rico
Holcombe Hurd's 6th- 8th grade Music Classes from Red Bank Middle School in Red Bank, New Jersey
Lindsay Novak's Science Class from Citrus Springs Middle School in Citrus Springs, Florida
Jennifer Bamford's English and Language Arts Class from Smith County Middle School in Carthage, Tennessee
Tim Shields' Math Class from Calvary Christian School in St. Catharines, Ontario, Canada
9th – 12th Grade:

Tim Mills' Math Class from Hilton College in Hilton, Kwazulu Natal, South Africa
Jamie Williams' Fine Arts Class from Girard High School in Girard, Ohio
Amy Tubbs' English and Language Arts Class from Pulaski High School in Pulaski, Wisconsin
Robert Goetsch's Technology Class from Alief Taylor High School in Houston, Texas
Andrew Miller's Technology Class from North Stafford High School in Stafford, Virginia
The individuals judging the final 15 videos are Mario Armstrong, technology journalist and founder of the education technology site TechTechBoom; Steven Anderson, #EdChat co-creator and Instructional Technologist at Clemmons Middle School in North Carolina; Nicole Johnson, Miss California USA 2010; Sylvia Martinez, President of Generation YES; Davina Reeves, Miss New York USA 2010; Ken Royal, Scholastic Administrator Senior Technology Editor and Director of the Educators' Royal Treatment; and Derek Wenmoth, Director of eLearning CORE Education Ltd.
About the eInstruction™ Classroom Makeover Video Contest
The fourth annual competition is open to primary and secondary students and teachers in U.S., Canada (excluding Quebec), South Africa, the United Kingdom, Australia, New Zealand and Puerto Rico. Between August 23 and November 2, participants were invited to submit short, creative music videos demonstrating how they would use advanced technology to enhance their learning experience in the classroom. Videos had to be submitted by teachers and placed in the appropriate grade categories. For complete rules and guidelines on the eInstruction Classroom Makeover Video Contest, visit http://www.2010classroommakeover.com.
The complete eInstruction Classroom Makeovers range from $63,000 to $79,000 for each winner. In addition to the classroom technology, winners will receive a $1,000 cash prize for hosting a celebratory party for the entire school.
About eInstruction®
eInstruction is a leading education technology company dedicated to providing interactive teaching and learning technology and services that help educators drive academic progress every day, and give administrators the ability to monitor, aggregate, and analyze student performance data. The company offers educators and administrators a family of software, student response systems, fixed interactive whiteboards, mobile interactive whiteboards, and powerful enterprise‐based administrator tools.
eInstruction's research‐based solutions have been shown to increase student engagement and achievement while providing real‐time feedback and performance data to educators and administrators. Millions of students, teachers, and professors use eInstruction® technology in 500,000 K‐12 classrooms and more than 1,000 higher education institutions around the world. Available in more than 40 languages, eInstruction® technology is enhancing education in over 90 countries worldwide. eInstruction has offices in Denton, TX; Columbia, MD; Scottsdale, AZ; Cincinnati, OH; and Paris, France.
To learn more about eInstruction, please visit http://www.einstruction.com. For media
inquiries, please contact Julie McKinney at Stanton Communications at (410) 727‐6855
or jmckinney(at)stantoncomm(dot)com.
# # #