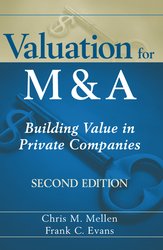 Chicago, IL (PRWEB) November 10, 2010
The Alliance of Merger & Acquisition Advisors® (AM&AA), the leading association and credentialing body for middle market M&A professionals, announced today that Chris Mellen, Delphi Valuation Advisors, Inc and Frank Evans, of Evans and Associates have been named the winner of the AM&AA Middle Market Thought Leader of the Year Award. The AM&AA annually honors authors who have made a meaningful contribution to the Body of Knowledge for middle market M&A.
Chris Mellen and Frank Evans will be honored at a luncheon on January 12, 2011, at the AM&AA's Winter Conference, to be held January 11-13, 2011, at the Hotel New Orleans Riverside in New Orleans For more information and registration details on the Winter Conference, please click here.
"The AM&AA is thrilled to honor Chris Mellen and Frank Evans with the Middle Market Thought Leader Award," said Michael Nall, Founder of AM&AA. "Since its founding, the AM&AA's mission has been to provide its members with superior educational value, focused on promoting and advocating professional excellence in the transactional advisory business. The work that Chris Mellen and Frank Evans have contributed to the Business Valuation and M & A profession has enhanced the caliber of the industry as a whole. We are very pleased to recognize this accomplishment."
The AM&AA Middle Market Thought Leader Award is designed to honor individuals who have made significant contributions to the middle market M&A advisory profession through the publication of works that promote research, higher standards of excellence and professional competence.
Messrs. Mellen and Evans, co-authors of the book, Valuation for M&A: Building Value in Private Companies, second edition, published by John Wiley & Sons in May 2010 have provided valuation advisory services to thousands of companies and corporate executives. They have provided in this book proven techniques for accurately measuring and successfully building value in middle market companies. In doing so, they provide the tools to determine a company's value, what drives that value, and how to enhance that value during an M&A transaction and in daily operations. Chris Mellen is president and founder of Delphi Valuation Advisors, Inc., located in Boston. Frank Evans is the founder of Evans and Associates Valuation Advisory Services, located in Pittsburgh. They are both principals in American Business Appraisers and each have over 20 years business valuation experience, performing valuations and related consultation for strategic planning, merger and acquisition, tax and estate planning, and a wide range of other purposes.
"The Thought Leader Award was launched to recognize those in our community that create and advocate ideas that add value to the industry, thereby adding value to AM&AA's education and credentialing programs, such as the Certified Merger & Acquisitions Advisor (CM&AA) credential, Valuation for M&A: Building Value in Private Companies, has been highly praised by the business valuation community and has been added to the CM&AA required reading, " said Mike Adhikari, AM&AA President, and President and Owner of Illinois Corporate Investments, Inc. and Business ValueXpress. "
Participating private equity firms in the Conference Transaction Exchange include among others: Argenta Partners, Bertram Capital, Branford Castle, CarePoint Partners, Deerpath Capital Management, Diamond Capital Partners, Flexpoint Ford, LLC, Geneva Glen Capital, Harren Equity Partners, High Road Capital Partners, Huron Capital Partners LLC, KLH Capital, L.P., Main Street Capital Corporation, MCM Capital Markets, LLC, Parallel Investment Partners, Pfingsten Partners, LLC, Pinnacle Equity Solutions, Post Capital Partners, LLC, Prudential Capital Partners, The Pritzker Group, Valor Equity Partners, Westshore Capital Partners, and
Participating intermediaries, investment bankers and advisors include among others: B/D Compliance Associates, Inc., BCMS Corporate LLC, Bedminster Financial Group, Ltd, Dinan & Company, LLC, Focus Acquisition Partners, Generational Capital Markets, Inc., GF Data Resources, LLC, Hunter Wise Financial Group, Kinsella Group, Lincolnshire Management, Inc., McGladrey Capital Markets, LLC, Private Capital Research, LLC , Rippe & Kingston Capital Advisors, Stone, Carlie & Company, TR Moore & Co., WRSequence LLC
To view the AM&AA Winter Conference Brochure, please 2011 AM&AA Winter Conference
Or visit Alliance of Merger & Acquisition Advisors to register today.
About AM&AA
The AM&AA is the leading association and credentialing body for middle market M&A professionals. Our leadership and people have unrivaled multidisciplinary expertise in the financial services industry. AM&AA members represent sellers and buyers of businesses ranging from $5 to $500 million in transaction value. Their services are seller representation, buyer representation, due diligence, accounting financing, business valuation, tax planning legal, strategic, other advisory and transaction services. The AM&AA offers members a solid platform for professional collaboration.
Contact:
Diane Niederman
AM&AA
Phone: 877-844-2535
###