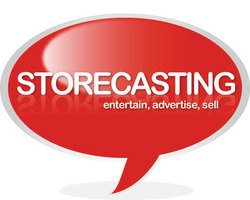 Charleston, SC (PRWEB) November 10, 2010
Storecasting®, provider of in-store messaging and music for stores and restaurants via internet, has added in-store digital signage capability.
"We are excited to be able to offer these great video products to our clients to supplement our superb, and fast-growing, music and messaging service," said Kim Seeger, Marketing Director of The Message Works, LLC, parent company of Storecasting.
The Storecasting service provides results-oriented messaging with a wide variety of music options for a rapidly expanding client base. Subscribers insert brief announcements about their store, upcoming special sales or events, messages on behalf of vendors, and any other messaging they wish to call to the attention of their shoppers, reaching them at the point of purchase.
"The video element adds an entirely new dimension, yet complements Storecasting's music and messaging," added Seeger. "It's an easy to use, self-managed system that allows clients to communicate visually quickly and easily with their customers, patients, or guests - in the moment that matters."
"Our original product, Storecasting, is adding new clients weekly as the business community discovers the great music system that allows them to control the messages heard in their businesses," she said "All programming and messages are delivered via the Internet, which offers great two-way efficiency and cost savings. Our Message Control Center does an amazing job of integrating the music and messaging in each location while being easy to use."
Scott Johnson, Music Director, pointed out that Storecasting client Monza Pizza of Charleston was recently named one of the nation's "Great 51 Pizza Parlors" by USA Today and credits Storecasting for significantly contributing to their ambiance and success.
For additional information, please contact:
Kim Seeger, 843-972-2200 or kseeger (at) themsgworks (dot) com
About Storecasting:
Storecasting, a division of The Message Works, LLC, is an internet based messaging and music system for stores, restaurants, and similar operations. Other services include custom internet players for clients ranging from universities to church networks and National Hockey League teams. See http://www.themsgworks.com. Affiliated service TheRadio.Com provides online listeners with 250 channels of music, including a dozen Christmas channels. http://www.theradio.com
###