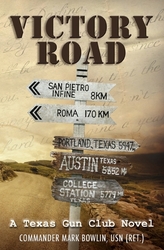 Flower Mound, TX (Vocus) November 8, 2010
After Allied landings on the Italian coast in 1943, the Axis dug in to hold onto every inch of ground. Opposed by the best defensive army of the modern era, the soldiers of the 36th Division, Texas National Guard, were tasked with conquering mainland Italy as part of the US Fifth Army. As the Allies moved inland, Texans led the first major offensive against the interior of Nazi-controlled Europe.
Author and retired Navy Commander Mark Bowlin's second book, Victory Road, is the sequel to the award-winning The Texas Gun Club. The second book in the series, Victory Road focuses on the actions of cousins Sam Taft and Perkin Berger as the Texans struggle to take San Pietro, Italy, and advance on the road to Rome.
Overshadowed in many ways by the more famous actions surrounding the Normandy
D-Day, the fighting in Italy was no less vicious, brutal or important. Without the relentless grinding advance of the Allies from the south to tie down German forces in Italy, the soldiers of the Normandy landings would have met a better equipped and prepared German army on the French beaches.
The Texas Gun Club, published in 2009, won the Military Writer's Society of America Gold Medal Award for 2010. Bowlin is currently at work on the third installation in the series.
About the Author
Commander Mark Bowlin is a retired naval officer—a native of Portland, Texas, and a graduate of the University of North Texas. He joined the US Navy in 1987 and served in a variety of billets, ashore and afloat, in the US and overseas. His awards include the Legion of Merit and Defense Meritorious Service Medal among other personal, unit and campaign awards. He lives in Flower Mound, Texas, with his wife and son.
About the P3 Press
Victory Road was published by The P3 Press, a division of Brown Books Publishing Group, an independent publisher based in Dallas, TX.
For more information about the author and his series chronicling the wartime adventures of Sam and Perkin, check out http://www.thetexasgunclub.com.
###