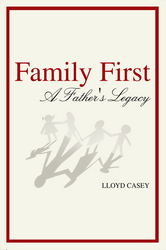 Dublin, OH (Vocus) November 9, 2010
Family First - A Father's Legacy, a new book by Lloyd Casey, has been released by RoseDog Books.
Lloyd Casey's story begins in January 1980, as he tells his seven children, ages 30, 28, 26, 24, 21, 17 and 11, that his intention is for them is to know more about their father. During the course of the year, Casey wrote about his childhood, service in the navy, how he met their mother, and his mis-adventures while trying to make a difference for the better. He had the pages that he had written copied and stapled, and he gave each of them what he had written as a Christmas present. Casey did the same in 1990 and again in 2000. Collectively, it is now a thirty-year account of family life in the twentieth century.
Lloyd Casey was born on December 18, 1926, in Anaheim, California. From 1933 to 1944 he lived near or in Las Vegas, Nevada. In 1944, he dropped out of high school and joined the navy. He became a radioman on a destroyer in the South Pacific. His dad informed him that he was losing his Catholic religion and insisted Casey go to a Catholic college. He did, at St. Vincent College in Latrobe, Pennsylvania, from September 1946 to May 1950. Casey married Mary Grace Wells, from Baltimore, Maryland, in September 1949. Since then, they had seven children, he had many jobs, Casey was a senator for the state of Colorado, and is miraculously still alive.
Family First - A Father's Legacy is a 180-page paperback with a retail price of $20.00. The ISBN is 978-1-4349-8184-4. It was published by RoseDog Books of Pittsburgh, Pennsylvania. For more information or to request a review copy, please visit our virtual pressroom at http://www.rosedog.com/pressroom or our online bookstore at http://www.rosedogbookstore.com.
###