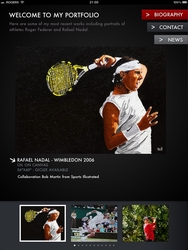 (PRWEB) November 9, 2010
Michel Bell, a painter who specializes in oil-on-canvas sports and action scenes, is pleased to announce the launch of his virtual Apple iPad solo exhibition. Michel Bell will be the first artist in the world to use the iPad to present his works to millions of users, allowing them to view and experience the full range of his colorful paintings in the comfort of their homes.
Working with renowned photographer Bob Martin, who has won over 53 national and international awards including "Sports Picture of the Year" at the World Press Photo Awards, Michel Bell's paintings capture moments of outstanding beauty in major international sports events. Featuring sports idols such as Roger Federer, Rafael Nadal, Michael Phelps and Usain Bolt, Michel Bell's pictures freeze their unforgettable performances in time with grace and colorful intensity.
"Apple and its co-founder, the artistic genius Steve Jobs, have revolutionized our lives with their creations. Today, thanks to the possibilities of a device as incredible as the iPad, it is now possible to make my work accessible worldwide. I can show my paintings in an exhibition hall that can accommodate millions of people every day. And this is done without visitors even having to move. Isn't it a wonderful innovation?" says Michel Bell.
The application "BellArtist", developed in collaboration with Mirego, is available today in over 90 countries via Apple's AppStore. It can be downloaded free of charge at: http://www.bellartist.com
About Michel Bell
Michel Bell mainly paints sports scenes and portraits of outstanding figures from the arts world. Some of these personalities have pictures by Mr. Bell in their personal collections, including Mike Weir, Fred Couples, Sergio Garcia, Geoff Ogilvy, Ian Poulter, Simon Gagné, Harry Belafonte, Roberto Benigni, General Romeo Dallaire and John Malkovich. Although many of his paintings belong to art collectors, Michel Bell also uses his art to help humanitarian causes. His philanthropy was recognized in 2008 when he was named "Volunteer of the Year" by UNICEF Canada. Since 2006, most of Michel Bell's sports paintings have been created in collaboration with the great photographer Bob Martin.
About Bob Martin
Over the last twenty years, sports British photographer Bob Martin has captured images from all the major professional sports events, including the last ten Olympic Games. His photographs have appeared in various prestigious publications, including Sports Illustrated, Time, Newsweek, Life Magazine, Stern, Paris Match, Bunte, L'Équipe, The Sunday Times and The New York Times. Bob Martin has won several awards over the course of his career, including 53 national and international prizes. In 2005 alone, he won over 23 awards including the coveted "Sports Picture of the Year" at the World Press Photo Awards. Visit http://www.bobmartin.com for more information.
About Mirego
Mirego designs and develops innovative mobile strategies for iPhone, iPad, Android and other mobile devices. Mirego supports its customers throughout the process of creating and marketing customized and interactive solutions. The multidisciplinary team at Mirego now has more than 30 applications to its credit, combining creativity, professionalism and efficiency to deliver innovative products and world class solutions.
###