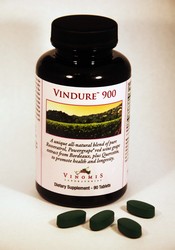 Customers love Vindure 900 because they can actually feel the benefits, and stay on the product for a long time.
Sewickley, PA (PRWEB) November 9, 2010
Vinomis Laboratories today announced the nationwide expansion of its reseller program for Vindure 900, the leading Resveratrol-based anti-aging supplement.
After an extended pilot program near the company's Pittsburgh headquarters, Vinomis is now making Vindure 900 available to retailers and medical professionals nationwide. "Every medical professional and specialty retailer who has stocked the product has reordered multiple times," noted Barry Yarkoni, Vinomis CEO, "they have had the same experience at retail that we have had with our direct-to-consumer marketing. Customers love Vindure 900 because they can actually feel the benefits, and stay on the product for a long time."
Vindure 900 is based on discoveries and technology developed at Harvard Medical School and other renowned research institutions, who established the connection between red wine compounds and improved health and longevity in laboratory animals.
Vindure 900 is a 900mg blend of the most beneficial compounds found in red wine. It features 98% pure Japanese Knotweed extract supplying 400mg of pure trans-Resveratrol in each tablet, along with 400mg of Powergrape® whole grape extract from Bordeaux, and 100mg of Quercetin, also a potent red wine compound.
These red wine compounds have been shown in numerous laboratory tests to activate the "SIRT" genes which play a key role in slowing down the aging process and protecting the body from many of the adverse effects of aging. "Customers who take Vindure report increased strength and stamina," observed Brian Sherwin, Vinomis reseller sales manager. "As a 'fitness junkie' I have experienced these benefits myself, measuring significant improvements in distance and stamina. But even those who are more sedentary report feeling much more energetic and mentally sharper."
The Vinomis reseller program has been designed to meet the needs of a wide variety of resellers, including:

Gyms and fitness studios
Fitness coaches, and personal trainers
Health food and supplement retailers
Chiropractors, nutritionists, and other medical professionals
Cardiologists, internists, and other medical doctors
For more information about Vindure 900 or the Vinomis Reseller Program, please call Vinomis Laboratories at 877-484-6664, or visit http://www.Vinomis.com on the web.
###