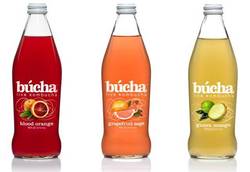 Made from a base of the highest quality organic teas and live cultures, Búcha Live Kombucha is carefully fermented and blended to deliver a break-through in this market – exceptional flavor.
Rolling Hills Estates, CA (PRWEB) November 9, 2010
B&R Liquid Adventure, LLC, a California startup focused on delivering quality kombucha with unprecedented taste, today announced three new additions to its family of Búcha™ Live Kombucha. Blood Orange, Grapefruit Sage and Guava Mango are the newest blends to dazzle the kombucha world.
Debunking the notion that all kombucha teas are saddled with an unpleasant vinegar-like taste, Búcha Live Kombucha moves the entire category to a whole new level, delivering a wholesome, delicious drink to avid kombucha fans and generalists interested in a "good for you" alternative to overly sugared, high-calorie beverages that are staples across refrigerators and grocery store shelves. Búcha is now available in select natural food stores in the Western U.S.
Kombucha that Tastes as Good as it Looks
The newest flavors to hit refrigerated sections in forward-thinking outlets are Búcha Blood Orange, Búcha Grapefruit Sage and Búcha Guava Mango. These offerings join Búcha Live Kombucha's inaugural flavors – Masala Chai, Kiwi Passion and Verbena Rose – introduced in summer 2010.
"Lucky for kombucha drinkers and kombucha virgins alike, there are now six delicious Búcha offerings that knock the pants off any soda," said Hannah Crum, Los Angeles-based industry expert and Kombucha Kamp blogger. "Weighing in at only 35-48 calories per 8oz. serving and drafting on the benefits of healthy bacteria and yeast, this type of refrigerated beverage is what consumers should reach for when they want something that'll satisfy their taste buds but won't impact their waistline!"
A delicious, refreshing, low calorie, non-alcoholic beverage made from a base of the highest quality organic teas and live cultures, Búcha Live Kombucha is carefully fermented and blended with choice natural and organic ingredients to deliver a breakthrough in this market – exceptional flavor. Most loyalists are drawn to the microbrew for its reputed health benefits. For more than 2,000 years, people have been drinking kombucha to enhance their wellbeing.
"While other kombucha producers have been struggling to make their products compliant with the 0.5% alcohol limit, we've remained within the limit," said Frank Commanday, Technical Director and industry veteran microbiologist/brewer. "We continue to focus on developing brews of exceptional flavor that appeal to a market that extends beyond veteran kombucha drinkers. To this end, we've arrived at three additional flavors."

Blood Orange: Red tea harmony is achieved through a blend of organic South African Rooibos, Egyptian hibiscus flower, Chinese safflower threads, and American orange peel. Rooibos, prominent in the 'red tea' category, is naturally caffeine-free and contains none of the astringent tannins associated with black tea. Wine-red hibiscus flowers (Hibiscus sabdariffa) enhance the refreshing, tart finish that originates from our proprietary kombucha fermentation.
Grapefruit Sage: The natural, refreshing tang of fresh kombucha perfectly complements vibrant, zesty grapefruit flavors derived from natural grapefruit essence. A 'secret' we can share: A dash of sage oil adds an edgy, earthy essence.
Guava Mango: Striking a perfect tropical balance, each bottle contains a harmonious blend of South American mango and guava purees, along with natural fruit extracts. These are truly two complementary flavors that belong together.
Pricing & Availability
Búcha's flavors are offered in 16-ounce glass bottles with a suggested manufacturer's retail price of $3.69 per bottle. As Búcha beverages contain live cultures, the product must be refrigerated.
Gaining new locations every day, Búcha is currently in limited distribution. B&R Liquid Adventure's distribution channel is taking product into health and natural foods stores. Initial shipments are being sold to select stores in the west and southwest.
For more about B&R Liquid Adventure's kombucha product line, and to see where the team will be sampling great-tasting Búcha Live Kombucha next, visit http://www.mybucha.com. Or, go to http://www.mybucha.com/available-stores to find Búcha in a store near you.
About B&R Liquid Adventure
B&R Liquid Adventure, LLC was founded by Bern Galvin – a health-conscious, former competitive athlete who was looking for a healthy beverage to help him shake a history of chronic respiratory problems. Bern started the company in early 2009 after friends urged him to produce commercially the delicious home-brewed kombucha he was making for himself and friends. To that end Bern brought in Technical Director Frank Commanday and Marketing Director Dennis McLaughlin. B&R Liquid Adventure is funded by an investment syndicate, and maintains a presence in both Northern and Southern California. The company's goal is to become a leading provider of healthy non-alcoholic beverages, starting with kombucha.
Búcha, búcha, and "Taste the Culture of Life" are trademarks of B&R Liquid Adventure, LLC.
# # #