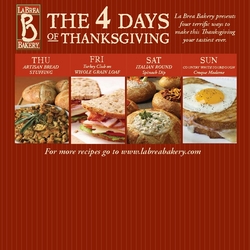 With a house full of guests over a long weekend, mealtime can become a challenge
Los Angeles (Vocus) November 9, 2010
Why end a delicious day of feasting on Thursday? This year, La Brea Bakery invites you to celebrate the 4 Days of Thanksgiving with recipes that you can enjoy all weekend long! From Thursday's stuffing to Sunday's festive brunch, great bread makes Thanksgiving weekend taste even better.
For more than twenty years, customers have enjoyed La Brea Bakery's all-natural, artisan breads, as part of the holiday meal. La Brea Bakery continues this tradition by now offering easy entertaining and delicious dining solutions that can be made by any home chef.
Thursday: La Brea Bakery's Artisan Bread Stuffing is a perfect addition the Thanksgiving table. Combining three of La Brea Bakery's most loved breads (Country White Sourdough, Rosemary Olive Oil and Organic Wheat) with a blend of aromatic herbs brings a delicious flavor to this light and fluffy stuffing. Create your own stuffing from scratch using our timeless recipe, or purchase our La Brea Bakery Artisan Bread Stuffing mix now available at grocery stores nationwide.
Friday: Take a break from shopping to enjoy a Turkey Club Sandwich. Give leftover turkey a twist with sweet tomatoes, crisp butter lettuce, and smoky applewood bacon piled high atop La Brea Bakery's Whole Grain Loaf.
Saturday: There is no more delicious way to serve holiday party fare than in a rustic bread bowl. Carve out the center of our Italian Round and fill with a savory Spinach Dip. Serve with fresh vegetables, or our French Baguette for dipping.
Sunday: Round out the weekend with a festive brunch. Our Croque Madame on Country White will have your guests wishing that they never had to leave. Smoky ham and melted swiss cheese topped with a sunny-side up egg provides for delicious flavor, and a beautiful presentation.
"With a house full of guests over a long weekend, mealtime can become a challenge," says Katie Kelsey, director of marketing. "La Brea Bakery offers a solution of healthy and wholesome meals for the entirety of the weekend that will keep guests happy, and the host out of the kitchen."
Recipes for the 4 Days of Thanksgiving are available on La Brea Bakery's website at http://www.labreabakery.com/4days/. La Brea Bakery breads are sold in your grocers' in-store bakery. For a full list of retailers in your area visit the store locator on our website. To print recipes or photos please contact kbrucker(at)labreabakery(dot)com.
Founded in 1989, La Brea Bakery, Inc. is the leading US producer of par-baked artisan breads distributed to foodservice and grocery retail businesses. The company maintains ownership of its original flagship storefront in Los Angeles, CA, in addition to a casual dining restaurant in Anaheim, CA. Recognized for its commitment to offering only high-quality and authentic culinary experiences to consumers, La Brea Bakery is continually ranked as the No. 1 artisan bread brand in the country. La Brea Bakery is owned by Aryzta, AG, a global leader in specialty bakery brands. For more information, visit http://www.labreabakery.com.
####