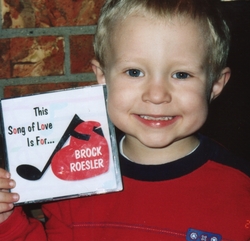 When you call the Songs of Love car donation program, you can be sure you are dealing directly with the charity and NOT a middleman.
Forest Hills, NY (PRWEB) November 9, 2010
The Songs of Love Foundation is a national nonprofit 501(c)(3) organization that creates uplifting, personalized songs for children and teens struggling with a life-threatening illness or lifetime disability--free of charge. Each CD is professionally produced with lyrics containing the child's name and references to all of his or her favorite activities, things, people, and pets. Songs are written and performed in the musical style that the child likes best (pop, r&b, rap, rock, alternative, etc.), by a variety of talented professionals.
As each child is unique, so is every "song of love" composition.Since 1996, the Songs of Love Foundation has reached out to over 20,000 children in over 500 hospitals and health care facilities in all 50 states. The songs have often been played to alleviate pain and trauma during painful and scary hospital treatments. The song recipients have played their "songs of love" in all kinds of situations and settings such as car trips to the hospital, show and tell at school, for family and friends in person or on the phone, and even for the doctors and nurses. The children have their "songs of love" always available to them whenever they are feeling down.
Through its car donation program, Songs of Love has been using the proceeds from the sale of the vehicles to fund its mission of music. When someone decides to donate a car to Songs of Love, they are dealing directly with a children's charity and not a middleman.
A article in Intouch, a cancer prevention magazine, stated that, "Young patients endure invasive procedures without anesthetics thanks to the comfort their 'songs of love' provide." The ongoing therapeutic value of each composition deeply affects not only the child, but everyone else who has been affected by the patient's struggle with illness. The songs move beyond one event, and capture the beauty and spirit of each child as they provide lasting joy and encouragement.
The Songs of Love Foundation is named after the song "Songs of Love", by Julio Beltzer, written and recorded just two months before he died on April 12th, 1984. Julio is the fraternal twin brother of Songs of Love Founder John Beltzer.
The car donation program was started as a way to make the Songs of Love Foundation rely not only on cash donations, but on vehicle donations as well.
For more information on how to donate a car please visit http://www.songsoflove.org or call 888-909-7664.
###