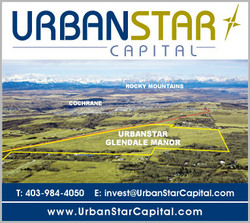 Calgary, AB (PRWEB) November 9, 2010
Dean Gorenc, CEO of UrbanStar Capital announced that Lee Thiessen has joined as a new member of the Advisory Board. Mr. Thiessen is a leader on a global level in commercial real estate and will assist in the value creation phase of UrbanStar Glendale Manor Inc., UrbanStar Capital's current land investment offering. Located in Bearspaw, Glendale, Alberta, UrbanStar Glendale Manor Inc. is a 250-acre, $14,000,000.00 land investment opportunity. The offering is RRSP and TFSA eligible and available for investment since June 21, 2010.
Mr. Thiessen is currently Executive VP of Global Business Development, Altus Group in Calgary, Alberta. His present focus is building an energy consulting group inside of Altus Group represented by all businesses. Mr. Thiessen also serves as Director, Direct Cash Management Inc. (Calgary) and Director, BOMA Calgary. He holds a Masters degree in Business Administration and Corporate Finance.
Mr. Thiessen has been actively involved in commercial property assessment business for 18 years. He has extensive experience in commercial real estate valuations, property tax appeals, commercial development, financing and leasing. He has dealt with land use rezoning, construction tendering and project management. He specializes in medium to large corporate clients, focusing on property tax services. He has served clients such as CREIT Management Ltd., GWL Realty Advisors, Morguard Investments, Canadian Aspen Properties Ltd., H&R Property Management Ltd., Artis REIT.
To learn more about UrbanStar Capital's team and advisory members or the land investment opportunities, business strategy, and extensive list of services, please visit http://www.urbanstarcapital.com/ or call 403-984-4050. The office is located at 6023-4th St SE, Calgary, AB, T2H-2A5. Contact person: Dean Gorenc, CEO UrbanStar Capital.
This press release does not constitute a solicitation or an offer to purchase the securities referred to herein. All offerings carried out by UrbanStar Capital will be made to qualified investors under an Offering Memorandum available from the office of UrbanStar Capital and in compliance with applicable securities laws of the specific jurisdiction in which the offering is being made.
About UrbanStar Capital
Located at the head office in Calgary, Alberta, UrbanStar Capital is a specialized firm that designs, implements and operates real estate asset management solutions for investors. The portfolio strategy of its real estate offerings is firmly focused on investing in selected regional cities in the thriving markets of Western Canada. UrbanStar Capital has the ability to offer an array of real estate services including real estate and mortgage brokerage services.
###