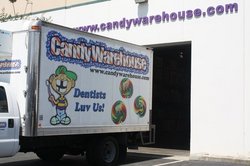 Our candy buffet planning module is one of kind! Shop by candy color to match any shade in the spectrum.
El Segundo, CA (PRWEB) November 10, 2010
CandyWarehouse.com was recently recognized by Inc. Magazine as one of the country's top 5,000 fastest growing private companies (http://www.inc.com/inc5000/list/2351) and by Los Angeles Business Journal as one of L.A.'s top 100 fastest growing private companies. 2010 marks the fourth and third consecutive years, respectively, the company has been recognized by these organizations.
"We are thrilled and honored to again be recognized for our hard work. We have such an amazing team and it is only due to their dedication and commitment to providing the freshest and most interesting products along with top-notch customer service, that we have grown year after year," says founder and President Christopher Pratt.
With its continued growth, the company has quickly filled up the new 33,600 square-foot warehouse it moved into just 11 months ago. "Moving the company last year was one of the greatest challenges in my career," states Peilin Pratt, Director of Operations. "I cannot believe I may have to do it again much sooner than expected!"
Not only has the company's inventory grown by more than 25% from one year ago, so too has its number of exclusive candy products and jolly candy elves. CandyWarehouse's most recent hire is Joe Zitomer, a seasoned executive with over 7 years of supply chain management and systems integration experience. Prior to joining CandyWarehouse, Mr. Zitomer held key operations positions for Keen Footwear, Polo Ralph Lauren and Kidrobot. "I am excited to join the CandyWarehouse team and am looking forward to contributing to its continued growth and success," states Mr. Zitomer.
Mr. Zitomer will replace Ms. Pratt as the company's new Director of Operations so that she may focus her energies on other aspects of the organization, including personnel training and development, special projects management, community involvement and charitable giving.
In 2010, the company donated thousands of dollars and hundreds of pounds of sweet treats to schools, churches, needy families and organizations such as the Los Angeles Women's Shelter, Children's Hospital, Five Acres (5acres.org), Americorps (cityyear.org), David & Margaret Youth and Family Services (davidandmargaret.org), Sante D'Or Animal Rescue (santedor.org), Los Angeles Police Department, El Segundo Parks and Recreation and Room for Hope, a pilot program where professional designers makeover bedrooms for under-privileged children. "As our business grows, so too does our commitment to give back to the community and help those less fortunate," says Ms. Pratt.
Inventory and staff are not the only new additions to CandyWarehouse . . . the company website also boasts the following new features/programs:

A candy buffet planning module helps event/party planners mix and match products online, see how all the items will look together, and purchase the entire candy buffet in one easy transaction. (http://www.candywarehouse.com/candybuffets.html)
Over 25 custom-produced videos instruct viewers on everything candy from how to create various-themed candy buffets to how interactive candy products like Pop Rocks Science Lab, Giant PEZ, and Sour Flush Candy Toilets actually work. (http://www.youtube.com/candywarehouse)
A mobile site for shoppers on-the-go.
Over 3,000 customer product reviews assist shoppers when making candy selections.
A candy-themed video game section, including a custom-designed game entitled "Truffle Shuffle," provides zero-calorie entertainment for all candy fans. "Truffle Shuffle" runs on web browsers or flash-disabled mobile devices like the iPad and iPhone. (http://www.candywarehouse.com/games.html)
"No other online candy store offers these types of customer-catered shopping/instructional features or provides as much entertainment during the online shopping experience," states kid-at-heart founder, Christopher Pratt. "What other company would spend hours after hours re-creating Gulliver's Travels with a 5-pound gummy bear?" (http://www.candywarehouse.com/gummibears.html - scroll to bottom to see photos). "More candy art, more products, more online features and entertainment, these are what we promise for 2011."
About CandyWarehouse.com, Inc.
Since 1998, CandyWarehouse.com has been the leading candy store online, providing popular and hard-to-find as well as nostalgic and the latest-trend candy delivered fresh and fast to customers both domestically and internationally. The company sells to businesses and individuals and carries more than 5,000 varieties of candy and candy-related products.
###