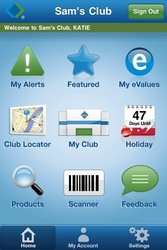 Dallas, TX (Vocus) November 9, 2010
Big in Japan, the leader in barcode-powered shopping by mobile consumers, announced that Sam's Club®, a division of Wal-Mart Stores, Inc. and serving more than 47 million members in the U.S., has released the Sam's Club App for iPhone, Android and Blackberry, incorporating the ShopSavvy® ScannerKit SDK.
"We are delighted to work with Sam's Club and to have our technology available to their members nationwide," said Alexander Muse, co-founder of Big in Japan. "It's a tremendous vote of confidence by Sam's Club, and we are grateful for their trust."
Other Big in Japan Services
Earlier this year, Big in Japan began licensing its barcode-scanning technology and the use of its price comparison engine to third-party applications.
Like other apps utilizing the ShopSavvy ScannerKit SDK, the Sam's Club App will incorporate AdOns®, the Big in Japan UPC/GPS mobile advertising framework. The framework uses the scanned product's UPC code and phone's GPS location data to serve highly targeted advertising at the point of highest purchase intent – namely, when the mobile consumer is standing in a retail store with a potential purchase in hand.
Interested companies and developers can access the ShopSavvy ScannerKit SDK at http://www.freebarcodescanner.com . The Sam's Club app is available in the iTunes Store.
About Big in Japan
Big in Japan Inc. is the leader in barcode-powered shopping by mobile consumers, with more than 6.5 million users generating 50 million product scans per month through the company's ShopSavvy® application and the applications of third-party licensees such as CNET and PriceGrabber. Big in Japan's UPC/GPS mobile advertising framework reaches consumers at the point of highest purchase intent, sharing promotions, coupons and other relevant information about scanned products. Big in Japan maintains one of the largest price comparison engines for local and online retailers, with links to the pricing and inventory systems of 20,000+ retailers worldwide. Big in Japan is funded and incubated by Architel, a Dallas-based managed services provider. For more information, visit http://www.biggu.com.
###