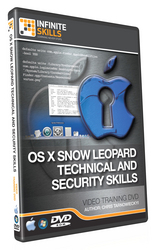 (Vocus) November 10, 2010
Software training and eLearning content provider Infinite Skills has just released a new 9 hour video course covering 107 topics that highlight some of the more advanced features in Mac OSX Snow Leopard. Taught by Apple systems expert Chris Tarnowiecky, this hands-on course has been created to help users expand their awareness of the powerful UNIX-based operating system and accomplish practical technical and security tasks such as command line use, disk partitioning, software automation and more.
While it covers a number of topics and techniques that are complex on their own, the OSX training video uses a simple and direct approach of demonstration to help viewers learn easily. Tasks are shown onscreen in real time, with accompanying audio that explains each step and allows users to easily follow along. Because the tutorials are split into individual lessons, users are able to access the training in any order, reviewing the subjects they want to know without delay. Playback controls embedded in each video allow the user to pause, fast-forward or repeat sections of the training at any time.
Apple OS X Snow Leopard Technical and Security Tutorial
As the role of Macs expand within both corporate and professional media environments, learning how to maintain these systems has become a growing concern for IT personnel worldwide. These lessons let any moderately skilled computer user, whether a working professional or someone hoping to break into the field, a concise and sensible way to learn the more in-depth features and controls the operating system makes available.
The tutorial starts with a bit of overview to make sure viewers are prepared for what is to follow. After briefly covering the basics of navigation and control, Tarnowiecky helps users begin to view their Macs in a new way, not just as an interface for media and the Web, but as a multi-functional tool that can serve many purposes at once, and for multiple users. The tutorials look at the OSX file system, associated permissions, metadata and commands. Next, the lessons look at the power of automation, not only using the powerful Automator tool that comes with Snow Leopard but also shell scripting for more flexible purposes. After looking at Mac developer tools, he moves onto security, which includes disaster prevention and recovery, securing accounts, encryption, securely erasing data and more.
Since the training is authored by a certified professional, it features the same quality normally available in significantly more expensive, seminar style courses. Yet because the training comes in a unique video format, it is in many ways superior because users have complete control over the subjects they are learning and the speed at which they progress.
This unique Snow Leopard tutorial series can now be ordered on DVD for $99.95 (approx. £62.00) , or accessed as an instant download from InfiniteSkills.com. For a full list of lessons and several free demos, see the link below:
Apple OS X Snow Leopard Technical and Security Tutorial
About Infinite Skills Inc
Using strategic content partnerships and the world's best educators, Infinite Skills provides some of the most practical and affordable software training currently available on the market. Customers appreciate the company's extensive range of titles, superior customer service, and steady quality across its entire product line.
###