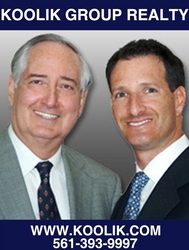 Boca Raton, FL (PRWEB) November 9, 2010
Elliot Koolik, leading Boca Raton real estate agent of Koolik Group Realty announced today that he is confident that the homes for sale in Palm Beach County, Florida will continue to sell at an increasing rate. This comes with a number of recent home sales at the real estate agency. Koolik specializes in gated country club communities and luxury condominiums in the greater Boca Raton, Delray Beach and Highland Beach areas.
FloridaRealtors.org recently released statistics showing the existing home sales in August increased by three percent in Florida when compared to the statewide averages. The average rate for a 30-year fixed loan also dropped to 4.19 percent in mid October, which is the lowest level on record, dating back to the early 1970's. Boca Raton real estate agent, Elliot Koolik stresses that "with the high housing affordability and the historically low mortgage interest rates, sales have considerably picked up since this time last year."
Since the beginning of June 2010, recent home sales for the Boca Raton real estate agent have increased. Koolik has sold twelve properties representing the selling side, while he represented the buyer for an additional three properties, totaling fifteen properties sold since early June of this year. Most buyers have been interested in Palm Beach County, Florida homes for sale.
In October, Koolik had two transactions pending on homes for sale in Palm Beach County, Florida; one of those properties is located in Woodfield Country Club in Boca Raton and was only on the market for nineteen days before the seller's accepted an offer. The other is located in nearby Woodfield Hunt Club and went under contract in just six days of being on the market.
The seller was in the process of relocating and therefore was pleasantly surprised when receiving the offer. "We knew that in today's market, it would take a bit of sacrificing to sell our home quickly; however, when we received an offer within 12% of the asking price, we could not have been happier." added the seller, Lewis Fogel.
"People are realizing that now is the time to buy; this market is extremely value driven as consumers want to know that they are getting the biggest bang for their buck and when they feel confident, they are not afraid to make an offer" added Koolik.
Associated Press. "Mortgage Rates Hit Decades- Low 4.19%" October 15, 2010.
About Koolik Group Realty:
Koolik Group Realty are recognized as one of the top Boca Raton real estate agents specializing in homes for sale in Palm Beach County, Florida including oceanfront homes and country club communities such as Woodfield Country Club in Boca Raton, Mizner Country Club, The Oaks, and St. Andrews Country Club. While the Koolik Group real estate agents are active in all of Palm Beach County, they focus on greater Boca Raton, Delray Beach and Highland Beach. The team has sold over $440 million dollars in real estate by offering their clients a unique marketing plan for their home and an unparalleled level of customer service. For more information about the group, please visit http://www.koolik.com.
###