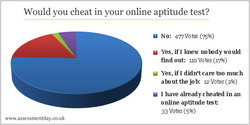 Desperate times call for desperate measures said one anonymous graduate
(PRWeb UK) November 10, 2010
Psychometric testing is used by over two thirds of medium to large sized employers but at least 5% of graduates have admitted to cheating, with another 17% saying they would cheat if they knew how to get away with it.
The most common types of aptitude test graduate job seekers have to face are numerical reasoning and verbal reasoning. It is the scores applicants achieve in these tests which determine if they get selected for the job or not. So the stakes on passing the tests are high and some desperate graduates are discovering ways to cheat the selection process.
A recent survey conducted by AssessmentDay.co.uk found that the majority of job seekers are honest, with 75% saying they would not cheat in an online aptitude test. One reason for being truthful is that if you cheat you risk ending up in a job for which you don't have the capability. As one sensible graduate put it "there's no point in pretending to be someone you're not".
A more concerning response was given by 17% of respondents who said they would cheat in their online aptitude test if they knew they would not be found out. Catching cheating is a growing issue for recruiters, with many tests using complicated verification methods. If a candidate passes a recruiter's online aptitude test, they usually get asked to retake a similar test at a later stage, but under supervised conditions where their high score can be verified.
This sort of screening approach to candidate selection is very common amongst recruiters. It involves asking the majority of job applicants to take an online aptitude test, with the results immediately discounting a large percentage of hopefuls so that only the successful applicants are progressed to the next stage, such as interviews. The online aptitude test is frequently used in this way as a cost and time saver for recruiters who find themselves flooded with hundreds of applicants. These tests can be seen as just another hoop for graduates to jump through, and one which some applicants resent.
The most brazen of job seekers surveyed were the 5% who said that not only would they cheat in online tests but that they already have done so. "Desperate times call for desperate measures" was the justification from anonymous one graduate.
The most common ploy adopted by cheating applicants is to get a friend to sit by their computer and help with the numerical or verbal reasoning questions. Since many aptitude tests can be taken online from the privacy of the job-seeker's home, there is no way of knowing whether it was the applicant or someone else who was sitting the test.
Another tactic some cunning graduates have resorted to is deliberately disconnecting their internet connection mid-way through a test and then asking to retake it. Their thinking is that if they note down the questions they can work out the answers offline and then know how to respond when they see the same question the second time round. Most psychometric test publishing companies claim to circumvent this tactic by using questions randomly selected from a large bank of questions, so even if candidates get to see the same test twice the chances are they won't see many of the same questions.
There seems to be a spirited battle between recruiters and canny job applicants. Test publishers often end up playing a game of catch-up with job applicants finding new and inventive ways to enhance their test score, all for that elusive graduate job.
The survey on online aptitude testing was conducted in November 2010 by the psychometric test preparation website http://www.assessmentday.co.uk. Responses were taken from 632 job seekers. For more information about this study please contact Oliver Savill at os(at)assessmentday(dot)co(dot)uk.
###