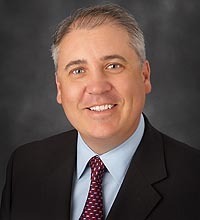 Omaha, NE (PRWEB) November 10, 2010
WebEquity Solutions™ LLC (WebEquity), announced today that Jeffrey T. Marcotte has joined the Company as vice president of lending strategies. Mr. Marcotte brings to this position more than 20 years of experience as a commercial lending and finance executive and valuable perspective as a former bank examiner with the Office of the Comptroller of the Currency (OCC).
Mr. Marcotte will help drive the Company's product direction and keep a pulse on the regulatory and economic factors that affect WebEquity's rapidly growing customer base. He will tap into his extensive background in managing commercial credit portfolios and first-hand knowledge of what practices banks must put in place to mitigate credit risk and maintain asset quality. An accomplished banker and active industry participant, Mr. Marcotte's expert insight will contribute to the Company's ability stay ahead of the curve in delivering on-demand solutions that help institutions' sustain profitable lending businesses.
"I am excited to apply my experience to help further advance a Company that is a true market mover. WebEquity exclusively offers a powerful combination of comprehensive loan spread programs and integrated business intelligence and risk management capabilities," said Jeffrey Marcotte, vice president, lending strategies. "WebEquity continues to aggressively invest in R&D and having been on the front lines, I believe strongly that its solutions, especially the loan stress testing tool, are game changers for commercial and agriculture lenders."
Mr. Marcotte joins WebEquity after gaining two decades of practical industry experience at institutions ranging in size $60 million to $20 billion in assets. Most recently, he served as a vice president at Bank of Bennington, responsible for managing a $20 million portfolio of commercial (i.e. commercial real estate and commercial & industrial) and consumer loans. Previously, Mr. Marcotte held senior executive positions at First National Bank of Omaha, Enterprise Properties and Farmers Bank & Trust Company. Prior to that, Mr. Marcotte held his post as a bank examiner with the OCC.
"We are delighted to have Jeff on board—his appointment comes at a pivotal time in the lending market," said Doug McGregor, CEO, WebEquity Solutions. "His unique combination of commercial lending experience and 'insider' point of view as a former bank examiner directly aligns with our mission. We are exclusively focused on equipping institutions with unprecedented credit analysis and risk management capabilities that will not only help them to survive in today's environment, but get ahead of the game and prudently grow commercial lending for the long term."
About WebEquity Solutions
WebEquity™ is the proven leader in on-demand lending software. More than 650 financial institutions and 10,000 lending professionals use WebEquity to automate and streamline their lending process and reduce operational costs, while making more uniform and profitable credit decisions. The company offers financial institutions a distinct advantage with a single solution that works for all loan types, an on-demand model that provides centralized, anywhere access, and the flexibility to configure the system so it fits their lending practices. WebEquity serves institutions in the U.S., Canada and Australia. For more information call 800-264-0787 or visit http://www.webequitysolutions.com.
Media Contact:
Tracey Frederickson
Public Relations
ttfrederickson(at)comcast(dot)net
603.880.7413
###