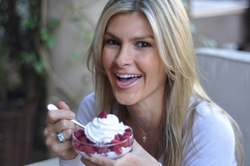 Skinny Chicks Don't Eat Salads
Wilmington, NC (Vocus) November 9, 2010
Christine Avanti, advocate of the transformative power of REAL food will share with Dr. Friedman's listeners her views on dieting, eating organically and how food can actually change your life! Her book entitled "Skinny Chicks Don't Eat Salads" has caught the attention of nutrition experts nationwide, including Dr. Friedman. The title of her book "Skinny Chicks Don't Eat Salads," Christine states " is designed to cause people to stop and take notice of it and hopefully to remember me. Yes I am aware that it is a little bit of a goofy leg kick - but the message of my book contains absolutely, dead-on useful information." Did you know four Big Macs from McDonalds gives you less fat than a Caesar salad? Learn the shocking truth about the so called "diet foods" and how they may actually be adding inches to your waist line.
Dr. Friedman, well-known for his controversial views on food and nutrition, welcomes Christine to the show to help inform his listeners on what we should be eating instead of what we falsely believe should be on our dinner plates. His views are shared nationwide through his "To Your Good Health Radio" show and his best-selling CD "American's Unbalanced Diet."
Christine has appeared on many TV shows including: The Today Show, Dancing with the Stars, Rachael Ray, Tyra, Fox Network and Good Morning America. She's also been featured in US Weekly, Health, Fitness, and InStyle Magazine. On November 11th, 1:00 PM EST, she joins Dr. Friedman LIVE on "To Your Good Health Radio" tune in at http://www.toyourgoodhealthradio.com.
About "To Your Good Health Radio"
To Your Good Health Radio is heard nationwide and offers a live, no holds barred, cutting edge approach to achieving optimal health. The host, Dr. Friedman is no stranger to controversy and has exposed the artificial sweetener industry for causing obesity, the milk industry for causing osteoporosis and the synthetic vitamin industry for causing sickness and disease. He has interviewed world renown doctors, celebrities, sports figures and New York Times bestselling authors that all share one common goal…finding a healthy lifestyle in the sickest developed country in the world… good ole USA.
The Network which carriers Dr. Friedman's show is HealthRadio which is the recipient of the international HONcode accreditation for trustworthy health information. HealthRadio also provides its services to hospitals around the country and has even been a vocal platform for The President of the American Medical Association.
http://www.toyourgoodhealthradio.com
About Christine Avanti
Christine Avanti is a published author, chef, nutritionist and outspoken advocate of the transformative power of REAL food. Christine's love affair with food began at the age of five while living on a ranch in Gilroy, California with her immigrant grandparents, Rosemary and Luigi Avanti. Christine grew up cooking home grown produce and humanely raised animals. With these humble beginnings, Christine was taught the value of organic, sustainable and locally grown food long before it became trendy. Learn more about Christine and her book "Skinny Chicks Don't Eat Salads" at http://www.christineavanti.com.
###