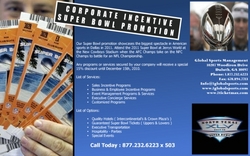 Global Sports incentive programs are great for leveraging your sales team bottom line
Duluth, GA (PRWEB) November 10, 2010
National Incentive Program for Corporations and Sales Teams!
Global Sports currently has inventory for Super Bowl XLV in Arlington, Texas in respect to tickets and hotels. Our current inventory consists of Super Bowl tickets and several hundred hotel rooms that can be utilized to motivate staff, clients, and sales teams to meet almost any budget. Global Sports also offers additional hospitality, parties, transportation and staffing to make each program unique and different from the competition!
Global Sports has a team of proven industry professionals that provide results. Over the past ten years more that 50 companies met their sales quotas after applying our Super Bowl and other sports promotions as a sales incentive to leverage bottom line goals and assist in closing deals.
Recent surveys show that companies are continuing to seek new ways to reduce expenses and improve financial management to meet the growing economic and competitive challenges in today's marketplace. Corporate expenses have not escaped this scrutiny. Global Sports is confident that this exciting incentive program can help meet challenges while still accomplishing goals within project guidelines and event budgets.
Global Sports also has inventory for the 2011 Masters and the 2011 Kentucky Derby. When your looking to entertain an important client, provide an incentive to top employees, or plan events and meetings, your organization can count on Global Sports to cover every detail.
Any organization that registers by December 15th, will receive an additional 15% off of any listed program.
Inquire today about the incentive programs and the new eLayaway program.
1.877.232.6223 x 503
http://www.1globalsports.com
###