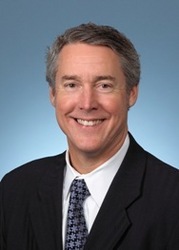 Mike brings two decades of experience helping to lead and scale prominent for-profit and nonprofit organizations. He is highly skilled not only from an operational standpoint but also is visionary.
Saint Paul, MN (PRWEB) November 9, 2010
Top U.S. Telefundraising Agency, Strategic Fundraising, Appoints Attorney and Former Minnesota Vikings Executive Mike Kelly As CEO
Strategic Fundraising, Inc. – the telefundraising agency of choice for the nation's leading political and nonprofit organizations – today announced the appointment of attorney and former Minnesota Vikings executive Mike Kelly as Chief Executive Officer. The lawyer-turned-senior business executive, community leader and political activist will help guide the agency -- named by Inc. three consecutive years as one of the country's fastest growing businesses -- through its next phase of growth.
Kelly joins the 20-year-old company at a time when it is experiencing unprecedented growth as clients increasingly recognize that strategic, analytics-driven, marketing across all channels is key for optimizing fundraising. Strategic partners seamlessly with clients and their other agencies to create and execute multi-channel fundraising programs that consistently deliver the strongest return on investment and provide unmatched stewardship.
"All of us at Strategic and, more importantly, our clients, are very fortunate to have Mike join the agency as our most senior executive," said Dan Rice, Strategic's founder and outgoing CEO. "He brings two decades of experience helping to lead and scale prominent for-profit and nonprofit organizations. He is skilled not only from an operational standpoint but also is visionary. He will take our business to the next level while changing how people think about incorporating calling into their overall fundraising programs."
Kelly will take over as CEO on January 1, 2011. Between now and then, he and Rice (who, for the last few years, has been planning to retire from a day-to-day role) will work together to ensure a smooth transition in company leadership. Rice will remain actively involved with the business as a member of Strategic's Board of Directors.
"Dan and his team have done an incredible job over the last two decades of building a strong business based on providing clients with innovative strategies and programs that generate more net revenue and more donors," said Kelly. "I plan to expand on that foundation by enhancing our current offering while introducing new, market-leading products and services – so our clients can achieve even more."
Background on Mike Kelly
Prior to Strategic, Kelly was a partner at Minneapolis-based Faegre & Benson, one of the largest U.S. law firms. While at Faegre, Kelly worked with the Minnesota Vikings during a period of major transition for the organization. The Vikings eventually recruited him to serve as Executive Vice President of Business Operations and General Counsel. Kelly's responsibilities included managing the Minnesota Vikings Children's Fund, which supports the many needs of children in the Upper Midwest, and was involved in development of partnership programs with United Way. Under his watch, the Vikings organization was the largest single donor to the University of Minnesota's Department of Pediatrics and operated Community Tuesday, a program for players and coaches to participate in weekly community service projects during football season.
Kelly also was Senior Vice President of Strategy and Business Development at St. Paul-based Gander Mountain, which operates the nation's largest retail network of stores for hunting, fishing, camping, and marine products and accessories. Additionally, Kelly was Chief Operating Officer and then CEO of the National Arbitration Forum; subsequently, he became CEO of the Forum's spin-off company, Forthright Solutions, LLC.
Active in politics and the nonprofit sector, Kelly has been a member of the City Council in his hometown of Edina, Minnesota, where he also served as acting Mayor and Vice Chair of the city's Housing and Redevelopment Authority. He was a delegate to the 2008 Republican National Convention.
Kelly currently is a member of the Board of Directors for Taste of the NFL, which rallies the country's top chefs along with NFL players and coaches to raise money in support of food banks throughout the United States. He has been a board member of the Page Education Foundation (which encourages Minnesota youth of color to pursue post-secondary education), the Minneapolis Downtown Council, and the Minnesota Opera. He also has served on the Marketing & Resource Development Committee of the Greater Twin Cities United Way.
Kelly supports a variety of nonprofit organizations including a family foundation, University of Notre Dame, University of Chicago, The Basilica of St Mary, St. Patrick's Church of Edina, Abbott Northwestern Hospital Foundation, the Make-A-Wish Foundation of America and the Foundation of Children's Hospitals and Clinics of Minnesota.
Kelly holds a B.A. in liberal studies and a law degree from the University of Notre Dame.
About Strategic Fundraising
Based in St. Paul, Minn., Strategic Fundraising is one of the nation's leading telefundraising agencies with a 20-year track record of generating the strongest results for political and nonprofit organizations. The agency's strategic and analytics-driven, multi-channel approach helps clients fully engage constituents to generate more donors and more net revenue across their entire fundraising program. Strategic's commitment to integrity and strict standards of professionalism produce the highest levels of stewardship for clients and their donors. For more information, please visit http://www.strategicfundraising.com
Contact: Jeremy Landon
(651) 233-5022
jlandon(at)strategicfundraising(dot)com
###