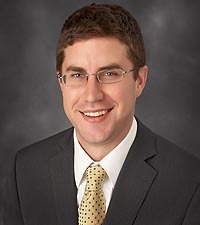 Omaha, NE (PRWEB) November 10, 2010
WebEquity Solutions™ LLC (WebEquity), announced today that it has appointed Trent Fellers as vice president of business development. A government operations administrator and former banker, Mr. Fellers will apply his expertise to further expand the Company's footprint throughout the country. WebEquity has experienced rapid growth in the past 12 to 18 months, as the leader in developing on-demand solutions that automate commercial credit analysis and portfolio risk management.
Mr. Fellers will be responsible for building WebEquity's strategic industry and technology partnerships and cultivating the Company's relationships with regulatory agencies and government representatives. He will also play an important role in helping WebEquity interpret and disseminate how the Dodd-Frank Bill will impact customers' commercial lending businesses and what steps they need to take to prepare for and remain in compliance with pending regulatory mandates.
"I look forward to immediately moving ahead in forging strategic alliances and executing initiatives that will drive WebEquity's continued growth and equip our commercial lending customers to successfully navigate this challenging economic environment," said Trent Fellers, vice president of business development. "I am pleased to join such as an accomplished team of people whose dedication and technology innovation is truly changing the face of commercial lending and credit risk management."
Mr. Fellers joins WebEquity from the Office of Nebraska State Treasurer, where he was chief of staff responsible for administering a $27 million budget, overseeing the receipt of $8 billion from Nebraska State Government operations and directing the treasurer's legislative agenda. Prior to taking that post, Mr. Fellers was assistant state treasurer. Mr. Fellers began his career as a personal banker with Cornhusker Bank. Prior to that time, he served the country for five years as a corporal in the United States Marine Corps.
"Trent brings a unique perspective to the table that is especially valuable as we continue to engage with government and political organizations to stay on top of issues that affect commercial lenders," said Doug McGregor, CEO, WebEquity Solutions. "These kinds of alliances give us insight vital to understanding what challenges lie ahead for our customers and advancing our lending solutions to better serve them. Trent is a strategic thinker and gifted communicator who will be an asset in helping us to effectively relay our value to the industry."
About WebEquity Solutions
WebEquity™ is the proven leader in on-demand lending software. More than 650 financial institutions and 10,000 lending professionals use WebEquity to automate and streamline their lending process and reduce operational costs, while making more uniform and profitable credit decisions. The company offers financial institutions a distinct advantage with a single solution that works for all loan types, an on-demand model that provides centralized, anywhere access, and the flexibility to configure the system so it fits their lending practices. WebEquity serves institutions in the U.S., Canada and Australia. For more information call 800-264-0787 or visit http://www.webequitysolutions.com.
Media Contact:
Tracey Frederickson
Public Relations
ttfrederickson(at)comcast(dot)net
603.880.7413
###