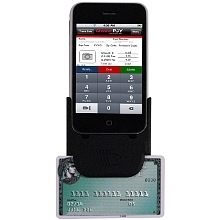 Henderson, NV (PRWEB) November 10, 2010
CardSmart Merchant Services has teamed up with eProcessing Network to now offer ePN Mobile allowing merchants on the go to process credit cards from their iPhone, iPad, iPod, Blackberry, Android, or other Java enabled phones. Credit cards can be manually entered or can be swiped using an attached or wireless Bluetooth card reader. With touch-screen enabled phones, signature capture is available in which signatures are sent and stored on the gateway with the receipt. All mobile credit card transactions are secured and stored on line. The software comes with access to the ePN Merchant Support Center that gives access to all transaction logs, phone configurations, and account settings making it easy to manage the mobile credit card processing account from anywhere.
For iPhone users, there are available credit card reader attachments from Magtek and ID Tech that attach directly to the phone. Both readers have a small foot-print and do not hinder the function of the phone. Merchants using iPod Touch devices can also purchase an on-phone credit card reader model made by Infinite Peripherals that attaches to the back of the device. Other phones, such as Android, Blackberry, or Java smart phones, can use an assortment of Bluetooth enable credit card readers that send the swipe wirelessly to the smart phone. Bluetooth receipt printers and check reading machines are also available.
Most newer smart phones have a touch screen interface. With such phones a merchant can swipe the credit card and have the customer sign their signature directly on the screen. The signature is sent to the on line merchant gateway and saved along with the receipt. The benefit of sending the signature with the transaction is that better processing rates can be gained due to the increase in security of having the customer's signature present. Additionally, transactions with signatures help to prevent charge backs, disputes, and credit card fraud.
Transactions sent from smart phones are securely sent and stored on line. So, once the transaction is made via the phone, that information is not stored directly on the device. This is a security feature because it prevents customer records being compromised if a phone is lost or stolen. Before a transaction is sent from the phone, all the information is encrypted which prevents hackers using wireless sniffing devices from reading the information. All of the gateway transaction servers used by CardSmart and ePN Mobile are PCI compliant and PA-DSS certified conforming to the industry's highest security standards. No merchant will have to worry about their customer's information falling into the wrong hands.
CardSmart merchants who use ePN Mobile have access to a wealth of on line features available through the ePN Merchant Support Center. The interface gives access to a history of all transactions, capture status, and deposits. Configuration of individual phones on the account and on line account settings are easy and straight-forward to change. Account and transaction information can be exported to file formats for use with Microsoft Excel and Quickbooks accounting software.
CardSmart Merchant Services is currently offing special pricing on the ePN Mobile software to existing merchants. Additionally, CardSmart is waiving the Merchant Setup Fee for new merchant accounts. By being a merchant with CardSmart Merchant Services and using ePN Mobile, merchants in need of mobile credit card processing now have a high-tech, high-convenience solution. More information is available on CardSmart's website at http://www.cardsmartchoice.com.
###