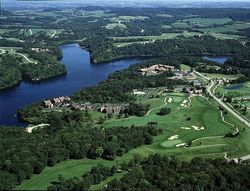 "We are giving the resort a 'refresh' as we modernize the overall look of our Inn rooms," says Ikhlas Ahmed, General Manager of the resort.
Galena, IL (PRWEB) November 10, 2010
Eagle Ridge Resort & Spa will be bringing in the new year in style as the property undergoes a renovation to all of the resort's 80 rooms at the Inn. The renovation will begin in November and is expected to be completed before Christmas 2010, just in time for the holidays and the resort's winter season.
Part of the renovation will include the incorporation of new Phillips flat screen 37" high definition TVs, new carpeting, paint and wallpaper to the rooms, in addition to some other "surprises" to further compliment the Inn's scenic wooded and lake views of pristine 220-acre Lake Galena.
Ikhlas Ahmed, General Manager of the resort comments, "Overall the results will not only be impactful, but keep with the rustic country motif in an underlying modernized quaintness."
In addition to the rooms renovation, many of the Inn's public area and hallways will also be receiving some subtle, but noticeable "freshening up" to compliment and complete the revamping.
Despite the renovations, the resort will continue to run operations as usual with events and activities planned for their Thanksgiving Weekend and holiday kick off in particular.
"All staff will be on board throughout the entire renovation process to help ensure a seamless transition while continuing to offer the same excellent customer service that Eagle Ridge is known for," concludes Ahmed.
About Eagle Ridge Resort & Spa
Located on 6,800 acres amid the rolling hills of northwestern Illinois, Eagle Ridge Resort & Spa is a full-spectrum resort complex located 150 miles west of Chicago. The property showcases superior golf with 63 holes on four acclaimed courses include The General, an 18-hole, par 72 course with over 250 feet of elevation changes throughout.
Eagle Ridge offers three distinctive restaurants that include award-winning Woodlands Restaurant, along with Spikes Bar & Grill and Paisanos. Other amenities include the tranquil Stonedrift Spa, providing ten treatment rooms for a complete sensory experience, and a state-of-the-art fitness center with a beautiful indoor/outdoor pool, sauna and steam room.
The property is the perfect backdrop to an incredible selection of outdoor activities including miles of biking, hiking and horseback trails, as well as tennis, hot air balloon rides, boating and fishing on the picturesque 220-acre Lake Galena. For reservations or additional information, call (800) 892-2269 or visit http://www.eagleridge.com.
# # #