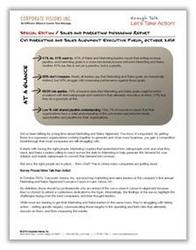 Incline Village, NV (PRWEB) November 10, 2010
In October 2010, Corporate Visions, Inc. surveyed top marketing and sales leaders at the company's first annual Marketing and Sales Alignment Executive Forum in Lake Tahoe, NV. The results highlight trends and challenges facing industry-leading companies across the globe that are working to achieve alignment between their marketing and sales efforts and differentiate their solution in an increasingly commoditized marketplace.
Key findings include:

41% of Sales and Marketing leaders report that setting revenue, pipeline, and marketing goals is a cross-functional process between Marketing and Sales. Another 41% say this is not yet a practice, but is a priority.
Nearly all leaders say that Marketing and Sales goals are numerically defined, but 66% struggle with measuring performance against those goals.
79% of leaders state that Marketing and Sales goals could be better socialized with field salespeople and marketers that ultimately executive on them. 21% feel they do a good job at this.
Only 7% of executives report that their organizations have a solid understanding of the conversion rate between leads, opportunities and pipeline for their organizations.
The Corporate Visions Special Edition Sales and Marketing Messaging Report is free for download.
About Corporate Visions, Inc.
Customer conversations are your best opportunity for competitive differentiation. You need to be different, where it counts. With Corporate Visions you will: develop messages that matter because they focus on your customer and set you apart from your competition; deploy tools that get used by the field because they are aligned to every step in the buying cycle, and empower you to accelerate deals through the pipeline; deliver training for winning conversations that teaches you the science and art of how to tell your story with impact and differentiation at every customer interaction, making it easy for prospects to choose you.
Corporate Visions' world-class customer advisory board includes: MasterCard, ADP, CA, Oracle, GE, Xerox, Millipore, AmerisourceBergen, Infor and Progress Software. For more information contact us at http://www.CorporateVisions.com or by calling 775-831-1322 or 800-360-SELL.
###