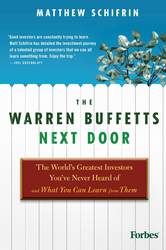 From February 2001 through March 2010, an investment in a well-run index fund would have earned an annual return of less than 2%. Mike Koza's portfolio total return averaged 34% per year.
Hoboken, NJ (PRWEB) November 10, 2010
Warren Buffett, John Bogle, George Soros, Peter Lynch, and John Templeton--they are famous investors whose names you know. And then there are the Warren Buffetts next door, those successful investors you have never heard of. According to Forbes Editor Matt Schifrin and author of THE WARREN BUFFETTS NEXT DOOR: The World's Greatest Investors You've Never Heard Of and What You Can Learn From Them (Wiley; November 2010; $29.95; 9780-470-57378-5, Hardcover), the Internet has truly been a game-changer for individual investors. Armed with technology and tools, previously only available to professionals, amateurs are now achieving professional results without professional commissions or fancy degrees from places like Wharton or Harvard. But not only are these outstanding self-directed investors trouncing market indexes, they are also taking control of their own capital in order to repair cracked nest-eggs and improve their lot in life. They don't seek the riches of Wall Street, but rather have more modest goals - being able to afford a family vacation every year, sending their kids to a good college, and having enough income to last them through retirement.
In his book, Schifrin provides case studies of 10 regular people who can pick stocks better than the vast majority of all professional advisors and money managers employed by firms like Merrill Lynch and Fidelity. Schifrin details their personal stories, along with their investment strategies, trading philosophies, and rules for investing.
Though Mike Koza lives about 1,350 miles away from Warren Buffett's Omaha, Nebraska, headquarters, the 51-year-old-civil engineer for the Sacramento County Department of Waste Management applies many of the same Graham & Dodd value principles in selecting stocks for his personal portfolio. Since February 2001, he has been able to achieve an average annual return of 34 percent per year. An investment in Berkshire Hathaway's stock would have netted 6 percent per year over the same time period. An investment in a well-run index fund like Vanguard Total Stock Market garnered less than 2 percent average annual return.
Koza is not alone. Another Warren Buffett wannabe named Chris Rees practices concentrated deep value investing from his ocean-view home on the north coast of the Dominican Republic. He has a verifiable 10-year average annual portfolio return of 25 percent. Former truck driver Jack Weyland of Reno, Nevada, has developed an expertise in health care and biotech stocks. He has had an average annual return of 36 percent since July 2002. Neither he nor Rees ever completed college, and Weyland spent much of his time picking stocks while on the road driving a tractor-trailer.
Another Warren Buffett Next Door, Alan Hill was able to secure a golden retirement with a single smart stock pick that created a windfall allowing him to build an adobe-style dream home in Placitas, New Mexico. But that was just the beginning, since his retirement in 2005, Hill is making more money investing than he ever did during his career as an executive in educational technology.
All the people profiled in THE WARREN BUFFETTS NEXT DOOR are risk takers but they are also supersensitive to losing their own hard-earned capital so their risks are carefully calculated. They come from all walks of life, but they demonstrate that the only real prerequisite to becoming a good investor is committing the time to educate themselves. They are out to make enough money to enjoy the lifestyle of their choosing. And that's exactly what they are doing.
THE WARREN BUFFETTS NEXT DOOR offers timeless advice and inspiration for any investor hoping to profit by investing in themselves.
ABOUT THE AUTHOR
Matthew Schifrin is Vice President and Investing Editor at Forbes Media LLC. He oversees money, investing, and personal finance content in Forbes magazine and on Forbes.com, including its Intelligent Investing and Financial Adviser Network. Schifrin also manages Forbes Newsletter Group and Forbes iConferences, and was the founding editor of Forbes.com's Best of the Web. As an investigative reporter, his articles have been featured on the cover of Forbes magazine dozens of times and he has been a finalist for an American Society of Magazine Editors National Magazine Award. Schifrin is a frequent speaker at investor conferences and has appeared numerous times on radio and television.
###