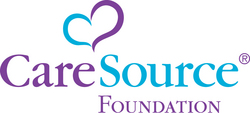 CareSource is committed to supporting health initiatives that impact our members
Dayton, OH (Vocus) November 9, 2010
The CareSource Foundation, part of CareSource, a non-profit, public-sector managed care company, recently announced a $75,000 Signature Grant to the Ohio Chapter of the American Academy of Pediatrics for a high-impact, statewide children's asthma pilot project.
The Ohio Chapter of the American Academy of Pediatrics represents more than 2,900 pediatricians, residents, pediatric surgeons and specialists. As a result of the CareSource grant, 13 practices in Ohio, including community health centers, hospital-based systems and private practices, will form a medical collaborative to address issues of asthmatic children from birth through 18 years old. Goals of the grant are to decrease hospitalizations, identify treatment options and form strategic asthma control plans to improve health outcomes for all children.
Ohio ranks seventh in pediatric asthma incidences with nearly 10 percent of children suffering from asthma. For children living in poverty and certain races, that number nearly doubles.
"CareSource is committed to supporting health initiatives that impact our members," said Pamela Morris, President and CEO, CareSource. "As a health plan that serves the underserved, we understand the emotional and financial burden that is placed on families caring for children with asthma, and we're glad to be able to support this pilot that improves the quality of care."
Pediatric asthma accounts for 14.7 million days of school missed by children nationally each year and workdays missed by parents who stay home to take care of their children. In addition, acute asthma encounters can cost $400 per emergency department visit and $5,000 for inpatient care.
"As the physician leader of the Ohio Chapter, CQN Asthma Pilot Project, I would like to acknowledge on behalf of our chapter, the national AAP, and our leadership team the very hard work and resulting success of our 13 first year practices," said P. Cooper White, MD, FAAP. "As we look forward to a second year of activity, it is due to their dedication that we are able to continue the work of the project, with the support of the CareSource Foundation. We are very grateful to the CareSource Foundation for sharing our vision of improved care for Ohio's children with asthma."
The CareSource Foundation was developed to provide strategic healthcare solutions for the underserved through grants, outreach, medical expertise, community partnerships and volunteerism. For more information on the foundation, visit http://www.caresourcefoundation.com.
About CareSource
CareSource is a non-profit health plan founded on the principles of quality and service, delivered with compassion and a thorough understanding of the Medicaid consumer. By staying true to its mission of making a difference in the lives of underserved people by improving their health care, CareSource has become one of the largest and fastest growing Medicaid managed care plans in the nation. Today, CareSource serves more than 862,000 Medicaid and Medicare Advantage consumers in Ohio and Michigan.
With a strong focus on preventive care, CareSource utilizes a continuum of care model to members at all stages of health and illness. In addition to all required services, CareSource offers extra benefits such as a 24-hour nurse advice line, transportation to doctor's appointments, and a variety of care management programs. For more information about CareSource, visit http://www.caresource.com.
About the Ohio Chapter, American Academy of Pediatrics
The Ohio Chapter, American Academy of Pediatrics was founded in the mid-1950's, and is the professional organization representing over 2,900 pediatricians, pediatric medical specialists, pediatric surgical specialists, and residents in Ohio. Members of the Ohio AAP represent both academic and community pediatrics in urban and rural settings.
The Ohio AAP promotes the health, safety, and well-being of children and adolescents so they may reach their full potential. The Ohio AAP works to accomplish this by addressing the needs of children, their families, and their communities, by supporting Chapter members through advocacy, education, research, service, and improving the systems through which they deliver pediatric care. A number of programs are managed by the Ohio AAP, including: pediatric asthma, autism and developmental delays, early literacy, foster care, immunizations, obesity, and vision screenings.
###