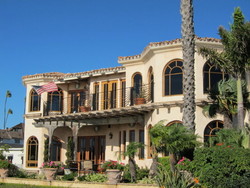 This specific parcel is the #1 location in the world and will forever maintain its intrinsic value.
Corona Del Mar, CA (PRWEB) November 15, 2010
This oceanfront home is a $30 million home and can be had for $17.5 million.
The buyer of this home will put themselves on the map. They will have made it.
Completed with an ensemble of French and Italian imports, this home rests atop the steps to Big Corona Beach. This is the only location on the West Coast where you can see the waves break at Big Corona and the world famous "The Wedge" in Newport Beach, known for its spectacularly large waves. Enjoy 280 degrees of unobstructed views comprised of the Balboa Peninsula, Laguna Beach coast, Catalina Island, San Clemente Island, Newport and Balboa piers and the multi-million dollar yachts coasting in and out of the Newport Harbor jetty.
Constructed from lath and plaster, built upon bedrock, elevated hundreds of feet and boasting a full sized-basement, this property is made to withstand an 8.0 earthquake and potentially a tsunami.
This 8 bedroom suite, 11 bathroom, 10,921 square foot home is one of the largest homes in the city, and was the most expensive home in Corona Del Mar when it was last purchased.
To be talked about but not seen. To be heard of but not known. Each passerby on the beach pauses and admires. While standing on the deck enjoying the views, Hanold noticed a passerby point and say, "Look, that's one of 'those people'."
Presented by: Hanold Properties -
George Hanold - 949.836.5479
http://www.HanoldProperties.com
http://www.2900oceanblvd.com
# # #