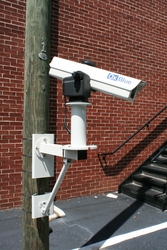 OxBlue now offers the most reliable, highest performance and simple to use PTZ construction camera system possible.
Atlanta, GA (PRWEB) November 10, 2010
National construction camera service provider OxBlue.com announced today that they're providing a new line of rugged 4, 6, 8 and 12 megapixel wireless Pan-Tilt-Zoom (PTZ) construction cameras.
The new PTZ camera systems have been designed to reduce the number of cameras needed for one job while providing a simple, rugged and reliable turnkey solution. The new units provide the smooth, high-precision, and rigid design necessary for capturing steady images in outdoor environments. With an extremely precise positioning accuracy of 0.006º, the OxBlue PTZ construction camera solution is the first megapixel PTZ system capable of reliably capturing consistent images for professional quality time-lapse construction videos.
OxBlue's new multi-megapixel PTZ systems support remote software upgrades, allowing the unit to take advantage of future technology upgrades while protecting the client's investment by extending the viable life of the camera indefinitely. The system is fully sealed for outdoor applications (IP67) and adaptable to a wide range of construction environments. The PTZ system is a cellular based solution with an integrated controller – making it an autonomous piece of technology which requires no other onsite networks or devices. Solar power stations are also available as an accessory, making the solution completely wireless.
"Our customers told us a they needed a simple to setup PTZ construction camera that took the erratic movement out of their high resolution time-lapse movies, so we created our PTZ construction camera with an extreme positioning accuracy of 0.006º," said Bryan Mattern, Chief Technology Officer. "The result of that work is that our customers now have access to the most reliable, highest performance and simple to use PTZ construction camera system possible."
OxBlue (http://www.OxBlue.com) is a leading provider of construction cameras and has offices in both the United States and Europe. The company provides Webcam services to construction sites in all 50 states and across 6 continents. More than 30 percent of ENRs Top 400 Contractors use OxBlue's services. The camera solutions provided by OxBlue facilitate the capture, transmission, archiving and distribution of high-resolution images used to communicate jobsite progress, document construction activity and improve project management. Since 2001, OxBlue has maintained its commitment to excellence in construction camera technology, experience and first-class customer service.
# # #