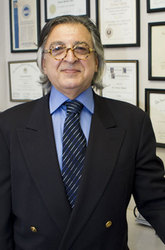 The VIAdmd oral device has successfully treated thousands of patients suffering from snoring.
New York, NY (PRWEB) November 30, 2010
Dr. Farhad Hakimi is proud to announce that his newly redesigned anti-snoring VIAdmd device now treats Sleep Apnea & TMJ syndrome with a 90% success rate. All of which is done with only one single mouth piece, unlike other anti-snoring oral devices which are built of two pieces.
Dr. Farhad Hakimi patented his VIAdmd anti snoring oral device in 1998. At that time the anti-snoring device had a 40% successful treatment rate. The doctor has since treated thousands of patients suffering from snoring. He has been redeveloping the anti-snoring device by coupling his expertise as a dentist with his growing knowledge of sleep disorders to improve the VIAdmd oral device to also treat Sleep Apnea and TMJ syndrome.
"Many patients that first come to me are not getting the quality of sleep required for their bodies to maintain healthy normal functioning. I've seen it time and time again. This lack of sleep is caused either by the patient's own snoring or their bed partner's snoring." said Dr. Hakimi. "Once patients are getting restful sleep, their bodies become healthier. Lower blood pressure and renewed energy are just a couple benefits that assist in patients overall health after using the VIAdmd oral device."
The VIAdmd oral device is an oral device specially tailored to each patient's own mouth, which creates a comfortable fit while aiding in stopping snoring without the use of surgery or awkward contraptions such as a CPAP machine.
In addition to his 30 years of dental practice, Dr. Hakimi has been involved in studying sleep disorders through-out his career.
Something to note about Dr. Hakimi's VIAdmd device is that he wanted to make something that would adjust people's mouth in such a way that they wouldn't need to use the VIAdmd device their whole lives, but that they could use for a period of time to readjust their mouth and over time stop using because they have retrained and adjusted the problem.
For more information on Dr. Hakimi and his anti-snoring VIAdmd oral device, visit http://www.VIAdmd.com
###