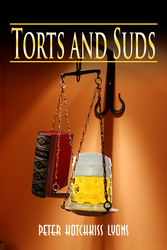 Riverside, CA (Vocus) November 10, 2010
Torts and Suds, a new book by Peter Hotchkiss Lyons, has been released by RoseDog Books.
After serving five years in the United States Marine Corps, Pete Leoni makes a career decision that causes him to make a transition from active duty as an infantry officer to becoming a struggling first-year law student. He matriculates into Rohring Hall School of Law, which is situated in an idyllic location in Southern California. His classmates are a mixed lot of veterans, businessmen and women, and recent college graduates. Members of the faculty are intellectual misfits, as well as categorical geniuses. The dean is a miracle worker who literally prevents the school from imploding. This serves as a basis for a three-year rigorous academic journey filled with humorous vignettes.
Peter Hotchkiss Lyons graduated from the Virginia Military Institute and California Western School of Law. He served a total of twenty years in the United States Marine Corps on active duty and as a reserve officer retiring as a lieutenant colonel. He practiced law in the public and private sectors for over thirty-five years. Pete is married to Margaret, and they have two sons. This is his first novel, which is based on some actual experiences and some real people when he attended California Western.
Torts and Suds is a 104-page hardback with a retail price of $15.00. The ISBN is 978-1-4349-8041-0. It was published by RoseDog Books of Pittsburgh, Pennsylvania. For more information or to request a review copy, please visit our virtual pressroom at http://www.rosedog.com/pressroom or our online bookstore at http://www.rosedogbookstore.com.
###