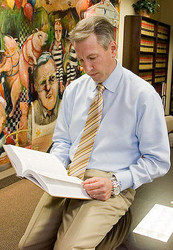 Tempe, AZ (PRWEB) November 11, 2010
On October 26, US judge Kimba Wood ordered that LimeWire discontinue their peer-to-peer file sharing network. He ruled that the service caused a "massive scale of infringement" of copyright law. While this ruling has so far been greeted unfavorably by the majority of the service's users, at least one attorney thinks that they should instead be breathing a huge sigh of relief. David Michael Cantor, an Arizona criminal attorney knows that any one of them could have been the next target of a Federal investigation. Not for copyright infringement, but for possession and distribution of child pornography.
LimeWire was launched in May of 2000, and quickly became one of the most used file sharing services on the internet. The open nature of the service allows anyone to upload any kind of file they wanted to share, with any name or description of the file that they like. This leaves the service vulnerable to dangerous, deliberately mislabeled files that could contain child pornography.
According to Mr. Cantor the usual pattern is that, "Somebody will go on looking for a music video and then off to the side they'll see something that says, 'pthc'. That means 'Pre-teen hardcore', but they don't understand that when they click on it. And now they've just downloaded and shared child pornography, and have now flagged themselves and the FBI or local authorities may come and arrest them and seize their computer."
Over the past few years, Mr. Cantor has represented many clients charged with crimes involving LimeWire and child pornography. He says that, "LimeWire is insidious. They should have policed themselves better and gotten this stuff off of their network long ago. They've created more sex offenders in the prison system than any other site or service out there, all because of stupid mistakes and curiosity. We should all be glad that such a poorly managed and dangerous service is being shut down."
David Michael Cantor has been serving the greater Phoenix metropolitan area since 1989 as an arizona criminal defense attorney. He is a certified criminal law specialist and was voted a Top 100 trial lawyer by the American Trial Lawyers Association in 2007. For more information about this and other issues, please visit http://www.dmcantor.com/.
###