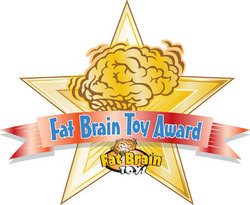 A Fat Brain Toy Award gives consumers peace of mind knowing that a product has been endorsed by their peers.
Elkhorn, NE (PRWEB) November 10, 2010
Fat Brain Toys, the leading online retailer of specialty toys, announced today the winning products of the 2010 Fat Brain Toy Awards. Unlike other toy award programs, a Fat Brain Toy Award is chosen by the thousands of web shoppers who voted at http://www.FatBrainToys.com during a 60 day period.
Fat Brain Toys created the proprietary awards program in 2008 to give consumers a voice. Leveraging the power of the Internet combined with the opinions of thousands of actual toy buyers, the Fat Brain Toy Awards has democratized the toy awards process. The results provide consumers with a truly unbiased, end-user opinion of toys on the market.
The Fat Brain Toy Awards feature a winning product in 31 different toy categories, from Bath Toys to Special Needs. The winning products in each category are featured below:

My First Green Toys Tugboat by Green Toys - Bath Toys
Sturdy Birdy by Fat Brain Toy Co - Games
OK to Wake! Children's Clock by American Innovative - Furniture & Decor
EzyRoller by EzyRoller - Outdoor Toys
Visiting My Grandmother by Boystown Press - Books, Calendars & More
Catapult Kit by Abong - Wooden Toys
Magic Science Wizards by Scientific Explorer - Science & Nature
Money Maze Bank by Magnif - Office & Desk Toys
Dado Planks by Fat Brain Toy Co. - Building & Construction
BluTrack 18 Ft. Starter Kit by BluTrack - Trains & Vehicles
Professor Noggin's Wonders of the World by Outset Media - History & Geography
Hexbug Nano Robotic Bug by Innovation First Labs Inc. - RC & Electronics
Musical Hand Bells by Schylling - Music
Stomp Rocket Junior by D & L Company - Active Play
32 inch Rainbow Diamond by Skydog Kites - Kites, Planes & Rockets
Magnetic Cannon by Abong - Magnets & Magnetism
Junior Belle Epoque Doll Pram by Chicco - Dolls & Dollhouses
Superhero Cape by Little Adventures - Imaginative Play
CitiBlocs 1000 Pc. Collector's Edition by CitiBlocs - Upscale Toys
4 inch Thumball by Talicor - Party Favors & Party Fun
Golden Retriever Puppy Puppet by Folkmanis - Plush
Erector Set Best of 50 Model Set by Schylling - Classic & Retro Toys
Dado Cubes by Fat Brain Toy Co - Baby & Toddler
Find It - Original Edition by Find It Games - Travel Toys
Food Face Kids' Dinner Plate by Fred & Friends - Gear & Apparel
Design Your Own Dog Leash by Bowwowmeow - Arts & Crafts
Brain Food by Fat Brain Toy Co - Special Needs
Cookware & Dining Set by Green Toys - Organic & Green Toys
3D Puzzle Neuschwanstein Castle 98 Pc by Puremco - Puzzles
Utopia Brainteaser Puzzle by Learning Mates - Brainteasers
TOOBEEZ by Waba Fun - Playrooms & Play Centers
"In today's media-driven society, it's easy to get swept up in the buzz. Our goal with the Fat Brain Toy Awards is to give consumers peace of mind knowing that a product has been endorsed by their peers as being 'the best-of-the-best'," said Mark Carson, co-founder of Fat Brain Toys. In addition to the clear benefits for the consumer, a Fat Brain Toy Award is also a great testament to the toy manufacturers who win the award. Each winning toy manufacturer will be recognized by Fat Brain Toys at the American International Toy Fair held in New York City, February 13-16, 2011.
About Fat Brain Toys
Begun as a literal garage startup in 2002, husband and wife team Mark & Karen Carson have grown their company into one of the largest independent retailers of specialty toys in the country. Recognized as one of the fastest growing e-retailers by Internet Retailer magazine, Fat Brain Toys credits their rapid growth to offering quality toys coupled with truly remarkable customer service. You can see their complete selection of specialty toys at http://www.fatbraintoys.com.
# # #