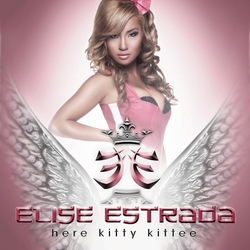 Elise Estrada "Sometimes doors are going to close, and sometimes they're going to slam in your face, but you have to keep going and that's what I did."
Vancouver, Canada (PRWEB) November 10, 2010
JUNO nominated pop singer, Elise Estrada is set to debut her highly anticipated sophomore album Here Kitty Kittee on November 9th, 2010 (RockSTAR Music Corp/Universal Music). Leading the charge from the album is the first single, You're So Hollywood, an upbeat, energetic, dance track that nabbed the coveted the "most added" song at Canadian Top 40 radio and the music video http://www.youtube.com/TheOfficialEliseE was instantly added into heavy rotation at Muchmusic.
The new single, Lipstick, is a captivating, power ballad that takes audiences on the journey of mending a broken heart. Early supporters at radio include; David Corey, CHUM FM Toronto "This ('Lipstick') is the best Elise Estrada song since 'Unlove You'. Actually, I think it is better," Rob Basile, Virgin Toronto, "Elise is Canada's pop princess and she proves it again with this track. Hit after hit she doesn't disappoint. A bangin' pop superstar!"; Jeremy Slattery, Z103 Halifax "It's nice to see Canada's pop princess back on the scene with a fresh set of claws".
If the old saw, 'you're only as good as your last project', is true, then Elise Estrada is very, very good indeed. Since launching her career with her self-titled debut in 2008 Estrada has reached an audience in excess of an incredible 635 million people worldwide. As impressive as her debut was, however, her latest release, Here Kitty Kittee, (RockSTAR/Universal) is even better.
In part that's a product of Estrada's http://www.eliseestradamusic.com deepening relationship with her crack production team: RockSTAR co-founder and VP, Adam H. Hurstfield, Orlando Calzada (Bon Jovi, TLC, Monica, Destiny's Child), Sean Hosein (Kelly Rowland, Laura Pausini, Hedley), Davor Vulama and SA Trackworks Steve Smith and Anthony Anderson (Destiny's Child). "My relationship with them is probably my most important one," Estrada says. "Everything they write, it's me. It's what I'm thinking and what I'm feeling."
Recorded over the course of 2010 at Threshold Sound + Vision in Los Angeles and at Vancouver's SA Trackworks and RockSTAR Studios, Here Kitty Kittee http://itunes.apple.com/ca/album/here-kitty-kittee/id401049370 taps directly into the raw energy that's become a hallmark of Estrada's live performances. Featuring undeniable hits like lead single, 'You're So Hollywood' (the most added track at Canadian Top 40 radio for two consecutive weeks following it's release and an instant add at MuchMusic in heavy rotation), songs like 'Whoa', 'Acapella' and 'Yin Yang' that find Estrada embracing the savvy, independent woman she's become, and candid takes on losing love, putting on your game face and moving beyond it such as 'Broke' and 'Heartless'.
But the strength of the record is also a result of Estrada's increasing involvement in the creative process, co-writing both Here Kitty Kittee's closing track, 'I'm That Somebody' and the album's standout ballad and monster second single, 'Lipstick'.
Picking up where her 2007 smash hit 'Unlove You' left off, 'Lipstick' displays the deep well of strength and determination Estrada has always drawn on in the pursuit of her dream to succeed as a performer. The track, and the record, also marks a bit of a change of direction for the Filipino born, Vancouver bred pop princess. A change prompted as much by her personal growth as by her evolution as an artist. "When I recorded my first album I was eighteen. Now I'm a little more grown up and I know exactly what I want to do and where I want to go, so this is a little more grown up, a little edgier. Instead of a ten PM curfew it's midnight."
Put bluntly, Here Kitty Kittee http://www.youtube.com/watch?v=4TV93IHD74Y shows that the 23-year-old, Vancouver based recording artist has claws and isn't afraid to let them show. Augmented by delicate acoustic touches and underpinned by hard-hitting beats and massive hooks, Here Kitty Kittee is simultaneously urgent and soulful. A high energy set of infectious, in your face Pop/R&B that alternately purrs and roars, showcasing the single-minded determination Estrada applies to every facet of her career as a performer, television personality and actress, and sinking its claws in deep on the first listen and refusing to let go.
To be clear though, when Estrada's claws do come out, it's not about adopting some put on, superstar, pose. It's about being confident, self-possessed and unapologetically sexy - "It's about being a strong woman," Estrada says bluntly. A woman who can tap into deep reserves of strength even at a time when strength is hard to muster, get over it, get on with it and never look back. A quality she's developed by spending her entire life relentlessly pursuing her dream through endless pageants, talent shows and singing competitions.
"I've wanted to do this since I was four years old. I was always that little girl who sang at every family party, and we Filipinos, we love our karaoke," she says, laughing. Still, it wasn't until she began singing professionally at age sixteen that Estrada truly set out to make her dream a lasting reality, taking every gig she could to hone her vocal and performance chops. "I did everything and anything I could to gain experience and prepare myself for when an opportunity did come."
When Estrada was ready - After winning an international 'Idol' style competition in Canada she went on to compete in the finals of Asia's immensely popular 'Pinoy Pop Superstar' television series, ultimately landing a lead role in a Disney Television pilot that was to be loosely based on her real life pursuit of stardom. Shortly after moving to L.A to work on the project, however, the deal went south; leaving Estrada feeling momentarily defeated, but still determined to succeed. "Sometimes doors are going to close, and sometimes they're going to slam in your face, but you have to keep going and that's what I did."
Once back in Vancouver, Estrada entered the 2007 'Beat 94.5 Music Awards and won the grand prize, a recording/management deal with high powered North American indie label RockSTAR Music Corp http://www.rockstarmusiccorp.com . "A dream come true, again," she says, but one she approached with a more critical eye than she might have previously, knowing the project might not last beyond her first single.
Now, two years and nine MediaBase top ten hits in a row later, Estrada's star is shining brighter than ever. Fuelled by chart topping hits 'Insatiable' and 'Unlove You', her 2008 self-titled debut propelled her to stardom. Landing her slots on sold out tours with the likes of The Backstreet Boys, Rihanna, Nelly, 50 Cent and Lady Gaga, and garnering accolades and awards including a BDS 30,000 Spins Award for 2007's mega-hit 'UnLove You', a 2009 CRMA for "Best New Artist or Group (Rhythmic/R&B/Urban/Dance), as well as multiple MMVA nominations and a 2009 JUNO nod in the category of R&B/Soul Album Of The Year.
While working on Here Kitty Kittee Estrada http://www.eliseestradamusic.com has also found time to bring her ample talents to television; hosting twenty episodes MuchMusic' popular 'Love Court' series, and appearing on a Thailand based episode of the network's popular 'My Date With…' as well as numerous other MuchMusic specials.
In 2011 Estrada will return to the small screen as a mentor on a new Much series entitled 'Rockstar Academy', but will also make her big screen debut in 'Beverly Hills Ninja 2; Dancing Ninja' co-starring alongside David Hasselhoff and Lucas Grabeel (High School Musical, Milk). Estrada will also be featured heavily as a spokesperson for Times Telecom/Bell Mobility in an upcoming national advertising campaign.
To say Estrada has a lot going on is a huge understatement, but she approaches every aspect of her work with unflagging professionalism. "I don't get overwhelmed. I don't get stressed. I wake up every morning doing something I love. I'm the luckiest girl in the world." But though she may consider herself lucky Estrada doesn't owe her career to some random sequence of fortunate events. Her success is as much a product of relentless dedication as it is of her belief that any opportunity is only as good as the effort you're willing to commit to it.
What makes a pop/R&B song great isn't just how universal or hooky it is, but how committed the singer is to their performance http://itunes.apple.com/ca/album/here-kitty-kittee/id401049370 . On Here Kitty Kittee Elise Estrada's commitment is absolute, proving once again exactly why she is Canada's favourite pop princess. Showcasing not only her powerful voice and undeniable charisma, but also her uncanny ability to inhabit a song so completely, you can't imagine it being sung by anyone else.
# # #