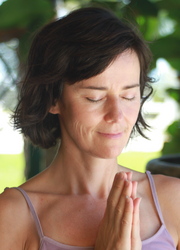 If you are tired of struggling and want to find answers and shift to healing, please join me for a one-hour teleseminar Tuesday Nov. 23rd or Wednesday Nov. 24th. at 1:00ET.
(PRWEB) November 16, 2010
Cancer patients and recent cancer survivors often ask questions like "why me?" or "why now?". To find the answers, one needs to be ready and have the courage to explore the deeper meaning or purpose of their struggle. One also needs to be open to gaining new insights into why it happened and how one can make significant, positive life changes as a result of their experience.
To participate in a free one-hour teleseminar call and find out how to access the answers to these questions and shift to healing please join Jackie Roberge, coach and program creator, Tuesday Nov. 23rd. at 1:00 ET (click here to sign up) or Wednesday Nov. 24th at 1:00 ET click here to sign up). The call will help cancer patients understand how it is possible to make a shift and transform their cancer experience from one that feels life threatening to one that can bring life enhancing changes.
If the free teleseminar call sounds interesting please sign up now - moving into action automatically starts the flow of positive momentum and energy in your life and will mark the start of a new journey. Also, visit http://www.PeacefulLife.ca to learn more about, or to register for, the 6-week Cancer SHIFT teleseminar series.
Here is how Jackie Roberge (Peaceful Life founder, Cancer SHIFT coach, meditation and yoga teacher) describes what she does. "I am passionate about empowering women through their cancer experience. I help them shift on many levels. Together we create a place of peace where they can go to tap into the body's innate healing capacities. I guide them through their fears into action that energizes them. I help them find the time, energy and courage to take care of themselves, find their voice and accept help from others. I also help them understand what feeds their cancer and what fuels their immune system so that they can participate more actively in their healing process."
Here are the steps of the Cancer SHIFT coaching program.
S Share - your story, address fears, awaken dreams
H Heal - body, mind and spirit approach to strengthen the immune system
I Ignite - inner transformation, being and loving your authentic self
F Find - your passion, explore your life purpose
T Thrive - start to live in flow with more passion and purpose
The 6-week teleseminar will be held Wednesdays from 1-2:30pm ET starting Dec. 1st. through Dec. 15th and again from Jan. 12th to 26th. Calls will be recorded for people who can't make them live.
PeacefulLife.ca will donate 10% of sales of the Cancer SHIFT teleseminar to the CanSupport program of the Cedars Cancer Institute Foundation.
About Peaceful Life
Peaceful Life was founded by Jackie Roberge in 2005. Jackie is a meditation and yoga instructor (Yoga Bliss Institute) and has been teaching and working with cancer patients for many years. Her experience includes 4 years of developing the approach and then teaching The Bali Method of yoga and meditation to breast cancer patients as part of a Doctoral research study at Montreal's Maisonneuve Hospital. For more information please hook up with Jackie on Facebook or Twitter.
###