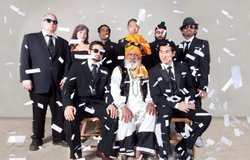 San Francisco, CA (Vocus) November 9, 2010
On November 14, 2010, San Francisco's best bar establishments will put forth their best talent in Fernet Branca's Third Annual BARBACK OLYMPICS. This year's Barback Gladiators will compete for prizes through a series of rigorous bar related activities that promise to delight a crowd of cheering bartenders, owners, and industry enthusiasts. Last year's event at Ruby Skye was a smashing success reaching capacity crowds; this year the event is stepping up to a bigger arena at Mezzanine. For this special event there will be amazing prizes, libations, gourmet appetizers, a custom Fernet T-shirt creation station, tattoos, and much more. Ten piece Panjabi funk band, Blackmahal leads the entertainment along with top notch DJs and cutting edge performances that will be sure to keep the energy high all night long as spectators cheer for their favorite "bar-athletes." This year's affair will be managed again by Flavor Group Creative Agency, handling production and adding visuals mixed with live camera feeds to complete a true Fernet Olympic experience.
CONTESTS TO INCLUDE:
Bottle Relay
Ice Bucket Race
Beer Restocking Race
Keg Changing Competition
Final Champion Round
Award Ceremony
RSVP at http://flavorgroup.com/fernetbbo FREE EVENT with RSVP / 21+ / DOORS 8:00PM / 1st GAME 8:30PM
For More Info, Please Contact Charity Kahunahana | charity(at)flavorgroup(dot)com | (415) 850-8117
ABOUT FERNET BRANCA
Novare serbando. Renew but conserve. This has been the motto of Fernet Branca since its earliest days, and it has had a profound influence on their strategic choices, the way they work, and their approach to their customers. Bernardino Branca, company founder, chose this maxim to epitomize his entrepreneurial instinct: ever open to the new, yet mindful of tradition and the lessons of the past. For Branca, innovation has never been a break with the past but a gradual development, a continuing improvement. This is particularly the case with their advertising, which in every epoch has been at the leading edge while always respecting and nurturing the identity of the products. Branca has always been a byword for integrity, which manifests in the quality of our products, their conformity to legal standards, and our prioritization of consumer safety. At the same time they are committed to developing new products that adhere to the Branca tradition yet aspire to satisfy the evolving tastes of our customers. They are also committed to continuity, which manifests in their concern to use the authentic herbs and ingredients of the original recipes – recipes that have made Branca products famous, and much imitated, throughout the world. Thus, they have the essence of novare serbando: a present routed in the past yet anticipating the future.
ABOUT FLAVOR GROUP
The Flavor Group is a full service creative agency with demonstrated success in executing experiential marketing programs that drive buzz, action and loyalty for clients like Red Bull, Scion, SanDisk, and more. We have been at the core of defining and nurturing experiential branding and are composed of a consortium that is organically integrated and influential in the world of cutting-edge. The Flavor Group is composed of marketing mavens, artists, designers, performers and technologists, with full service executional capabilities that range from multi-market product launches to events production and online grassroots programs.
ABOUT BLACKMAHAL
Based in San Francisco, BlackMahal blends funk, hip-hop, and traditional Punjabi sounds for an explosive dance beat that is all at once as energetic as a supernova and as chill as a chocolate martini. Their immediate awesomeness is due in part to the lead vocalist and the 'Godfather' of the dhol drum, Ustad Lal Singh Bhatti, who is a music icon in both India and America. The band formed serendipitously when Vijay Chattha, an active hip-hop DJ at the time, met Lal Singh at a wedding in the East Bay five years ago. The two began discussing music, and started toying with the idea of a project that spanned their respective tastes and experiences. Shortly after, BlackMahal was born.
###