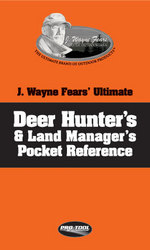 Pottstown, PA (Vocus) November 10, 2010
Professional wildlife manager and author J. Wayne Fears has announced the debut of his new, one-of-a-kind Deer Hunter's Reference, published by Pro Tool Industries of Pottstown, Pennsylvania, that will arrive in mid November 2010.
The J. Wayne Fears Deer Hunter's Reference Guide is a pocket reference that answers the hunter's and land manager's questions about white-tailed deer hunting and management. It is a quick reference of valuable information on managing plants and land for deer, deer harvest information, butchering tips, hunting lease management information, deer facts, downrange ballistics, hunting safety, getting the pH of a food plot, how to form a club, how to find a deer biologist where you live, and much, much more.
According Fears, "Whether it is the ballistics of your favorite deer rifle, how to score a trophy buck in the butcher shop or on hoof, writing a hunting lease, fertilizing honeysuckle correctly, making your own food plot mix, or determining the weight of a deer without a scale, it is all inside this handy little book. The book is designed to go into the field with the hunter or landowner. It is the most readily available information on the white-tail deer ever assimilated and placed at the hunter's and landowner's finger tips in a small book format."
Pro Tool Industries' General Manager, Mark G. Scheifley, stated, "What I like about this little book is that it is loaded with information the landowner, farmer, rancher or hunting club president will find valuable, as well as, a ton of valuable information for the hunter. It is a convenient size to go in a hunting coat pocket, keep on the dashboard of a truck, or carry in a day pack so that the information will be at hand when you need it. I will be tit will be used many times in the future to settle those campfire debates all deer camps have about deer and deer management. This book is being releases just in time for the holiday season and is a great stocking stuffer for every deer hunter or landowner on your list."
The Deer Hunter's Reference Guide is scheduled to be available on-line November 10, 2010 at http://www.protoolindustries.net.
# # #