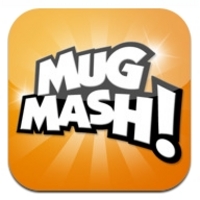 MugMash! is endless entertainment, great with friends and the ultimate ice breaker to meet new ones.
Westlake Village, CA (PRWEB) November 11, 2010
Code Crispies and Brother Grey, independent developers of mobile applications, are proud to announce the release of MugMash! through the Apple App Store and Android Market. MugMash! is a hilarious app where friends mix and match their faces to create jaw dropping combinations!
MugMash! is the perfect social app for friends to lose themselves in pure hilarity. Friends can swap in and out different facial features for remarkable and hysterical mashes. The app is also perfect to satisfy the curiosity of what the user would look like with a certain celebrity feature by simply taking a photo of a magazine cover, poster or actual celebrity. After taking photos, the user simply swipes a finger to instantly start mashing! Just ten faces yield 1000 combinations, 25 faces yield over 15,000 combinations!
Friends can share their favorite mashes with built in Facebook and email support. Mashes can also be saved to the photo album and shared with friends via MMS. MugMash! is endless entertainment, great with friends and the ultimate ice breaker to meet new ones.
Code Crispies and Brother Grey are dedicated to bringing virtually the same MugMash! experience to both iPhone and Android users and to include support for as many mobile platforms as possible. "Our goal is to bring our fun and exciting applications to mobile users, no matter which mobile device they use." said Christian Stavro, CEO, Brother Grey. "This is the best social app currently on the market. Friends and family will play and laugh with each other for hours on end."
The Android Market is a boon for Google. 270,000 developers are writing software for Android, and the number of programs available for download in the Android Market has grown to over 100,000, a number that has grown threefold since March.
The Apple's App Store has been wildly successful in providing apps to iPhone and iPod Touch users. There are apps that take funny and interesting photos, help improve health, and bring entertainment into people's mobile lives. At 6.5 billion app downloads, the Apple App store is nothing short of a success.
MugMash! for the iPhone, and iPod touch is free until November 11th on Apple's App Store. After November 11th, it will be priced at $0.99.
MugMash! for Android phones is available on the Android Market for $0.99.
Download it for iPhone here today:
http://itunes.apple.com/US/app/id400113524
Download it for Android here today:
market://search?q=pname:com.brothergrey.apps.mugmash]
http://www.androidzoom.com/android_applications/entertainment/mugmash_mwqt.html
QR Code:
http://encode.i-nigma.com/QRCode/img.php?d=market%3A%2F%2Fsearch%3Fq%3Dpname%3Acom.brothergrey.apps.mugmash&c=MugMash!%20for%20Android&s=4
MugMash! website:
http://www.mugmash.net
MugMash! on Facebook:
http://www.facebook.com/apps/application.php?id=151085578256591
Brother Grey Website:
http://www.brothergrey.com
Brother Grey on Facebook:
http://www.facebook.com/pages/Brother-Grey-LLC/107163309305461
About Brother Grey
Brother Grey is a premier developer of video games and mobile applications. Using its own proprietary technologies that foster creativity, Brother Grey can quickly and profitably create top quality apps.
Brother Grey, based in Los Angeles, CA, was founded in 2009 by Christian Stavro, an experienced game developer who has worked at Activision, Pandemic Studios, Project Offset, and Intel and whose credits include two Call of Duty games.
###