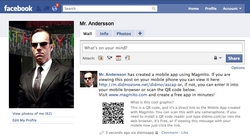 "Mobile users are two times more active on Facebook than non-mobile users, making the social network the perfect medium through which to promote mobile apps."
Stockholm, Sweden (PRWEB) November 11, 2010
DIDMO, creators of the Magmito mobile application creation solution, has announced that its award-winning platform now features a Facebook publishing option, making Magmito the first tool of its kind to offer distribution via the world's largest social network. Now, users can automatically publish the download link and matching QR Code to their mobile apps on their Facebook profiles, or via their Facebook Pages.
"Magmito empowers everyday people to create and share mobile content and because over 150 million people actively use Facebook on their mobile to create and share their content, the integration was a natural next step," said Ted Iannuzzi, CEO, DIDMO. "Our belief in universal reach means we will continue to break down the barriers towards mobile becoming an accessible, affordable and attractive channel for the masses to mobilize their message. And the masses are Facebook users."
Magmito mobile content reaches virtually every phone on the market today, offering native applications for Java, Android, Symbian and Blackberry, which together represent over 1 billion devices worldwide, and an enhanced WebApp version made specifically for the iPhone. Magmito-created apps can be distributed for free through email-to-mobile, auto-generated QR Code, cross-platform apps stores like GetJar, and now Facebook. Magmito also offers low-cost SMS distribution.
"Mobile users are two times more active on Facebook than non-mobile users, making the social network the perfect medium through which to promote mobile apps," said Iannuzzi. "This idea of spending big money on one app that lives for a year or more on an app store is not what 'Mobile' is about. Mobile is fluid, it's information on the move for people on the go looking for the latest and greatest. With our platform you can make an app a day and distribute it the same day. Now that's mobile."
How it works:
1. Register for a free account at http://www.magmito.com
2. Follow the easy-to-use online tool to create your app.
3. When you're finished, go to the "Publish Section" to choose distribution options. You can opt for a free app with advertising, or purchase an ad-free app for $399.
4. Click "Publish" when you are all done and the Facebook option will appear.
5. Follow the simple instructions to automatically post the app to your Wall and/or the Facebook Page(s) of your choice.
To access the Magmito mobile app, Facebook friends and fans simply click on the link posted to the wall and/or Page directly from their mobile device. Depending on the phone type, friends can download the app directly onto their phone or view the app within their mobile browser. Those accessing the wall from a computer can use their mobile phones to scan the custom QR Code provided, which will lead them directly to the content.
"The same person who created and manages your company's Facebook Page, can create and publish your Magmito app, it's that easy," said Iannuzzi. The Magmito tool is not for making mobile games and high end augmented reality applications costing thousands of dollars and requiring skilled programming knowledge, according to Iannuzzi. The platform is designed to allow everyday people, small businesses and corporate in-house teams to develop apps from product promotions and wedding programs to event agendas, or public figure profiles. These apps can now be posted directly to their wall or Facebook Pages for instant consumption at no or little cost.
Magmito is the mobile industry's first user-generated mobile content creation tool that allows anyone to easily create, publish and share content compatible with any phone. The revolutionary service allows users to embed video clips, telephone call linking as well as mobile couponing, RSS feeds and the ability to implement questions and polls, allowing consumer brands to solicit feedback from customers. Full tracking and reporting is also included and updating is executed in real-time. Free, ad-supported content creation or ad-free for $399 provides an easy to understand business model unavailable with any other mobile solution.
About DIDMO
Creators of the world's first cross-platform mobile content creation solution, Magmito, DIDMO has empowered everyday people and companies around the world to easily create, deliver and track rich and engaging mobile applications. Magmito's award-winning toolset has been used by companies including Turner Broadcasting, Sennheiser, Sony Ericsson and Disney to launch mobile campaigns including product promotions, special events, customer surveys and more, delivered directly to virtually any phone on the market. DIDMO's "develop once, publish everywhere" philosophy leaves no phone unturned, from iPhone to Android, Blackberry to Java devices. Recipient of the 2010 Mobility Award, "Best in Mobile Marketing" for Magmito, DIDMO also won Sweden's Gold Mobile Award for, "This Year's Mobile Business Solution". http://www.didmo.com. http://www.magmito.com
Contact:
Jennifer Iannuzzi, PR
Jennifer (at) didmo (dot) com
DIDMO AB
+46 766 453 776
# # #