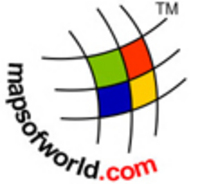 MapsofWorld.com is a dream in progress. We are not in a hurry but, we are sure that Mapsofworld.com will become a synonymous with Maps in the years to come.
San Jose, CA (PRWEB) November 11, 2010
Mapsofworld.com sets its precedence before the other map portals of the world, finding its place in the top 1,000 US sites list of Quantcast. Securing the 959th position, demonstrates how this portal has gained much of the sought-after global recognition it's been looking for. As the first 100% map-based website, it has created a niche for itself in the global domain. As a result, Mapsofworld has nurtured itself into a leading website on mapping related information.
The prudent design of Mapsofworld and its timely emphasis on the site's usefulness & purpose has helped the web portal in expanding into a full-fledged map site offering world maps in various forms. Presently, Mapsofworld figures much higher in the list of top 1000 websites with other notable sites like sony.com, xe.com and barbie.com standing at the 1000th, 985th and 982nd positions respectively. Mapsofworld stands one place behind Wikimapia, which stands at the 958th position. Mapsofworld is inching close to Chevrolet.com, a top notch website, which stands at the 946th position.
The statistics of Quantcast comes up with more revelations that reflect the worldwide acceptability of this highly informative website. Mapsofworld pulls in 3.5 million visitors every month including 1.7 million visitors from the US alone. Mapsofworld has a 58% reach among women and a 42 % among men (between the ages of 35 and 49). These men being the most avid users of the map related service offered by the web portal. Additionally, this site has a fair reach among other age groups between the ages of 13 and 34, thus reflecting its universal appeal.
The penetration of Mapsofworld.com in the US market is understandable. Its easy-to-browse maps offer a dedicated section entirely on US maps customized to answer all queries on US locations. In addition to the US Map, States & Capital Map, the website offers US thematic maps making it a preferred choice for the visitors referring to this site.
Whether it's the World maps or useful information on world insurance or precise guide to world cities, content and maps work in synergy in Mapsofworld. The enormity of content and maps put on the website has worked for the site catering to the global visitors. This resourceful site has come up with new applications time and time again. World maps in 800 varying themes and in 50 languages are exclusive to this web portal, which adds value to its purpose of foraying into the global market.
Mapsofworld offers free-to-use maps and works with publishers across the world and has rendered services in creating Earth Atlas, the largest published Atlas to date. Selling wall maps & other paper maps with partners such as National Geographic Maps is another domain where MapsofWorld has excelled. In a bid to expand its global market, mapsofworld.com has made its presence felt in social networking arena including Twitter, posting regular updates on maps-related and up-to-date changes on MapsofWorld website.
Mapsofworld provides its visitors with a collection of digital maps, flash maps and interactive maps essential for GIS services and custom mapping services. While travel maps and atlases are easy guides for travelers, wall maps are widely preferred for decoration and ready reference. The visitors have the ease to download maps from the website for myriad of purposes including presentations, publishing and graphic design. The options of world maps including thematic maps like world time zone map, world map in different projections, world top countries and more. enhance the value of Mapsofworld in the domain of mapping. Few map sites offer air & hotel bookings service online as Mapsofworld does for Travelocity.
Mapsofworld, in operation since 2003, is owned by Compare Infobase Limited and managed by MapXL, Inc. located in San Jose, California. Mapsofworld is a proud members of the International Map Trade Association (IMTA) and has showcased at the Frankfurt Book Fair for over 5 years for the map publishing community. The custom mapping services from MapsofWorld.com has also rendered it services in creating Earth Atlas, the largest published Atlas.
Mapsofworld is the brainchild of Simarprit Singh, who is the founder of this widely preferred source of map-related information. While discussing the potential of Mapsofworld and its relevance in future Singh explains, "Mapsofworld.com is a dream in progress. We are not in a hurry but, we are sure that Mapsofworld.com will become a synonymous with Maps in the years to come." Mani Singh, President (MapXL) at Compare Infobase Limited expresses his experience of evolving this map-oriented portal stating, "Milestones allow one to reflect back at strategy and execution. For the past two years, we have focused on understanding the needs of our users and bringing up the most desired maps and content-- keeping in tune with changes in the internet sphere and ensuring better monetization through right partners."
###