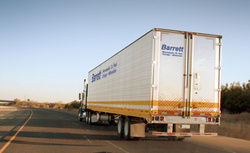 We take what we do very seriously --whether were moving a runners gear, a family's home or a priceless museum exhibit
Eden Prairie, MN (PRWEB) November 12, 2010
Once again, the moving company, Barrett Moving & Storage had a strong finish at the 2010 Twin Cities Marathon. Like it has done almost every year since the marathon began in 1982, Barrett's convoy, transporting approximately 10,000 marathon and 10k runners gear, finished first to ensure that each of the race participants had their possessions waiting for them at the finish line.
"This is a thrilling community event and were so proud to be a part of it," said Randy Koepsell, president of Barrett Moving & Storage. "The sense of camaraderie among the runners and the thousands of people who come to cheer them on is what makes this Twin Cities in Motion event such a huge success. "
Koepsell explained that Barrett has volunteered its trucks and services for 27 of the marathons 28 year history. And, while its a logistical challenge to make sure that each of the thousands of runners gets their respective bags, in the 27 years that Barrett volunteers having been doing this, Koepsell doesn't recall an incident where a racers bag has been misplaced or damaged. "We take what we do very seriously --whether were moving a runners gear, a family's home or a priceless museum exhibit," he said.
He was quick to add that none of Barrett's drivers has ever been beaten to the finish line.
About Twin Cities In Motion
Twin Cities In Motion (formerly Twin Cities Marathon, Inc.) is the non-profit organization that organizes running events throughout the year, including the Valentines Day TC 5K, 100% Irish For A Day TC 5K & TC 10 Mile, Medtronic TC 1 Mile, Red, White & Boom! TC Half Marathon, Twins Territory 4K, the TC 5K, TC 10K & Medtronic TC Family Events, Medtronic Twin Cities Marathon, Medtronic TC 10 Mile, all related events and Medtronic TC Kids Marathon program, as a community service for the Minneapolis/St. Paul area. Visit mtcmarathon.org for more information.
About Barrett Moving & Storage/Boulevard Moving & Storage
Barrett Moving & Storage, a United Van Lines Company, is an international moving agency with base operations in Minnesota, Illinois and Wisconsin. Barrett is a family business that has grown into an international industry leader. Established in 1901, the company has four locations that move hundreds of corporations and thousands of individuals nationally and internationally every year. Barrett became affiliated with United Van Lines in 1964, and has since grown into one of its largest agencies. The company offers specialized, customizable services for household moves, high-value shipping and corporate relocations.
# # #