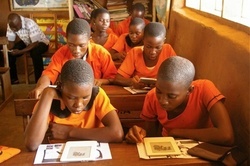 We are facing a once in a lifetime opportunity to use technology to bring about a momentous change in education
Harrisonville, NJ (PRWEB) November 15, 2010
eDreams (http://www.edreams.com), one of Europe's largest online travel agencies, announces its sponsorship of Worldreader (http://www.worldreader.org). As Worldreader kicks off a pilot study in Ghana this month to determine the impact of e-readers in the classroom, the organization continues to raise awareness worldwide with a new Facebook Causes page. For every person who joins the cause through that page this November, eDreams will donate $1 to WorldReader.org.
"Worldreader has taken a clear leadership role in using e-reader technology to promote education in those parts of the world with little or no access to books, an effort that could potentially benefit millions of lives. We are proud to be involved with such a forward-thinking initiative and support them in their ambitious but highly rewarding mission," said eDreams Social Media Manager, Bob Samii. "Worldreader is an example of how a nonprofit startup can effectively use social media to create awareness for their cause," said Samii.
Worldreader's iREAD pilot study is a major milestone for the organization. By introducing e-readers to eight schools in Ghana, Worldreader will study the impact of those e-readers on students before scaling up the program to other parts of the world. The organization already has permission from the Ministry of Education to roll out the e-reader literacy program in all schools in Ghana.
"E-readers are a wonderful way to bring books to places where paper doesn't reach utilizing the same GSM network widely-used cell phones have put into place. Even though e-readers were made for the world's richest economies, these devices are ideal for the developing nations. Today, 75% of the world's cell phone users live in the developing world, while e-reader penetration in these parts of the world does not even reach 1%. We are facing a once in a lifetime opportunity to use technology to bring about a momentous change in education in these countries and are thrilled to have the support of companies like eDreams in this endeavor," said Susan Moody of Worldreader.org.
Those interested in supporting Worldreader can join the cause on the organization's Facebook Causes page at http://www.causes.com/causes/534569. eDreams will donate $1.00 for every person who joins the cause. Members can also donate directly via a donation link at the top of the page, enabling anyone to support increasing literacy rates in developing countries at any level they can afford.
For more information about eDreams please visit http://www.eDreams.com or contact a member of the eDreams Press Cabinet -- Begoña Moreno, Paloma Pastor, or Blanca Segade at +34 91 702 10 10.
For more information about Worldreader please visit http://www.worldreader.org or contact Susan Moody at +1 206-860-5097 (in the U.S.) or at +34 63 936 66 34 (in Spain).
About eDreams
eDreams is one of the largest independent European online travel agencies. The company is based in Barcelona, Spain and offers services in Spain, Italy, France, Portugal, Germany, UK, Australia, Brazil, Canada, Mexico, Chile, India, Peru, Venezuela, Argentina, Colombia, Switzerland, USA, and the global English-speaking markets through their web properties: edreams.es, edreams.it, edreams.fr, edreams.pt, edreams.de, edreams.co.uk, au.edreams.com, edreamsviagens.com.br, ca.edreams.com, cl.edreams.com, edreams.in, edreams.pe, edreams.ch, edreams.net and edreams.com.
The company offers a large selection of flights, hotels and vacation packages at competitive prices and makes them available to its clients through booking engines with the latest pricing and search technology. Permira acquired eDreams from the previous majority stakeholder, TA Associates, in August of this year.
About Worldreader.org
Worldreader.org is a not-for-profit organization whose aim is to put a library of books within reach of every family on the planet, using electronic book technology. Just as mobile phones have leapfrogged landlines across much of the developing world, Worldreader.org is helping make e-readers become the easiest, least expensive, and most reliable way to deliver books to underserved areas and underprivileged peoples. Founded in 2009 by former Microsoft and Amazon.com executive David Risher, and Head of Marketing at Barcelona's ESADE Business School, Colin McElwee, Worldreader.org has successfully conducted e-reader trials in Barcelona, Spain, and in the village of Ayenyah, Ghana, and will launch the year-long iREAD trial in November with the support of Ghana's Ministry of Education. We rely on the generous help of our donors and such partners as M-Edge, suppliers of e-reader covers and lights, and ILCAfrica who will be evaluating the impact of Worldreader.org's tests.
Media Contact
eDreams Press Cabinet
Begoña Moreno / Paloma Pastor / Blanca Segade
Phone: +34 91 702 10 10
Fax: +34 91 702 10 11
# # #