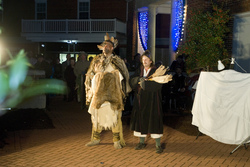 Hampton, VA (Vocus) November 10, 2010
On Friday, December 3, 2010, the Hampton History Museum in downtown Hampton, Virginia will commemorate the first recorded English Christmas in North America (which took place in Hampton!) with the Third annual First Light Celebration. The event is free and open to the public.
The action begins at 5:30 p.m. with Olde English caroling, children's activities, ginger cakes, wassail, corn cakes, and more! At 6:00 p.m., attendees will enjoy a reenactment of the story of Captain John Smith and the Kecoughtan natives, as well as guest appearances by Abraham Lincoln and Mary Todd, portrayed by actors Michael Krebs and Debra Ann Miller of Chicago, Illinois.
During the celebration, artist Gail Duke will unveil her 400th Anniversary Commemorative Table, complete with a Hampton map and 100 miniature sculptures of Hampton landmarks. Duke will also debut five new Hampton holiday ornaments, available for purchase in the museum gift shop. The night's festivities conclude with the blue star lighting atop the Hampton History Museum.
The "Kecoughtan Christmas" is the first recorded English Christmas in North America. In December of 1608, Captain John Smith recorded the events leading up to, during, and following their Christmas with the Native Americans. It was a hard second winter for the English settlers, and Smith sought trade with Chief Powhatan so that his people could survive. It was negotiated through messengers that if Chief Powhatan gave the settlers a boatload of corn, they would in turn build Chief Powhatan an English-style house, along with a grindstone, as well as numerous weapons, copper, and beads. While Smith knew he could not give the natives weapons, he sent word to the chief agreeing on the trade constituents.
With forty-six men at his command, Smith began sailing down the James River, and made formidable progress on the first day. However, when they woke the next morning, a snowy nor'easter was brewing, and their progress was severely cut, forcing them to seek shelter at Kecoughtan Village. Chief Pochins and his people welcomed them with great hospitality as the settlers 'kept Christmas' during the English days of Twelfth Night. For a week, until the storm passed, there was merriment, delicious food, and comfortable lodging. His journey led him to today's Yorktown, Gloucester, and beyond. During this time, Smith actually described their Christmas in his journal, thus leading to evidence for celebrating the 402nd anniversary of the event this year.
For more information on the Third annual First Light Celebration, check out http://www.hampton.gov/history_museum or contact the Hampton History Museum at 757/727-1610.
###