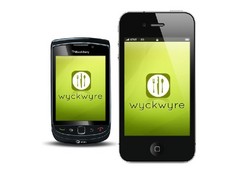 What our app brings to the table, is a huge advantage over the employer's competitors who are still using old-school hiring methods
Conklin, NY (Vocus) November 11, 2010
To enhance restaurant sales and service and to generate customer buzz, restaurateurs in several segments have already implemented technology initiatives targeting users of mobile devices and cell phones. Now understanding that mobile means business, the restaurant industry is turning to companies like WyckWyre.com in order to effectively conduct business, including hiring, on the go.
WyckWyre.com, the food service specific on-line hiring system recently rolled out their mobile apps. Using the Iphone and Blackberry platforms, restaurant managers and job seekers alike can now conduct "business" anywhere with mobile access.
From an employer perspective, the restaurant manager can now post a job and process all of the qualified applicants, 24/7 using the WyckWyre app. For most restaurants, conducting business on the go is the norm and sitting behind a desk is not what the average manager has time to do. "What our app brings to the table, is a huge advantage over the employer's competitors who are still using old-school hiring methods" said Julie Lovelass, WyckWyre Administrator. Through the use of the WyckWyre system, no longer does the manager need to be burdened with stacks of applications, and now he doesn't need to be chained to his desk either.
As a restaurant job seeker using the WyckWyre app, the task of looking for a job, just got easier. Job seekers can view open positions, apply for jobs right from their phone or if they prefer, simply send the job to their email inbox for a later time.
The company has also announced plans to introduce Android and Ipad apps in the upcoming weeks.
About WyckWyre
WyckWyre.com was launched on May 10, 2010 yet its revolutionary SaaS software has been in use in other industries for the past several years. The WyckWyre concept was developed to focus specifically on the Restaurant and Food Service Industries. This web-based hiring system not only posts jobs to the Internet but also filters and processes the applicants taking up to 75% less time hiring a qualified applicant.
Wyckwyre worked with Epipheo Studios, whose client list includes Google and Yelp, to create a 3-minute "Epipheo" (epiphany video) explaining the WyckWyre.com concept. You can view their Epipheo at the top of this release or via YouTube and other media sharing sites. It really boils down the concept into three entertaining minutes.
###