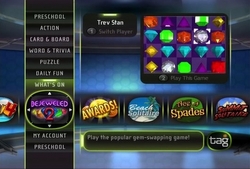 We are always looking to differentiate and add value to our products, and the addition of free games for our iO TV customers serves both objectives.
Bethpage, NY (PRWEB) November 10, 2010
Cablevision Systems Corporation (NYSE: CVC) today announced the launch of a new interactive gaming service available free to all iO TV® customers. This value-added offering from ActiveVideo®'s TAG Games provides an array of puzzle, arcade and children's games, and allows customers to play on their own or even against other iO TV customers in a unique house-to-house mode.
"We are always looking to differentiate and add value to our products, and the addition of free games for our iO TV customers serves both objectives," said John Trierweiler, senior vice president of product management at Cablevision. "With popular games like Bejeweled 2™ and Diner Dash™ available for free unlimited play, and the ability to play live against other gamers across the street or across the state in house-to-house mode, we know our customers will really enjoy this new enhancement."
Available on channel 610, the game lineup features blockbuster brands and classic favorites, such as Bejeweled 2, Sudoku and Bob the Builder™. Customers can easily use their remote control to play these selections as well as traditional card, word, trivia, arcade, and kid-friendly games, including educational titles for the youngest members of the family. Seventeen games are available today and one new game will be added each month.
The games service, which will ultimately feature advertising, also allows iO TV customers to play against each other – an option not available from satellite or phone company competitors.
Key features include:

Real-time multiplayer network games
Player profiles to store high scores and achievements
High scores visible across Cablevision's service area
Instantaneous load time
With more than 2.9 million iO TV customers, 96 percent of Cablevision's cable customers are iO TV digital cable customers, the highest digital penetration in the nation. iO TV offers customers access to more than 400 channels that includes 53 premium movie channels, 46 channels of commercial-free digital music, thousands of on demand titles available at all times – including thousands of free selections, an interactive programming guide, more than 100 free high-definition channels and uniquely valuable and relevant local content through unique services like News 12, MSG Varsity and their companion interactive television applications.
About Cablevision
Cablevision Systems Corporation (NYSE: CVC) is one of the nation's leading media and entertainment companies. Its assets include its cable television operations, which provide industry-leading services to more than 3 million New York area households, and its award-winning television networks, which deliver some of today's most watched programming to hundreds of millions of consumers worldwide. A state-of-the-art cable system enables the company to offer a full suite of advanced residential and business communications services that include its iO TV® digital television, Optimum Online® high-speed Internet, Optimum Voice® digital voice, Optimum WiFi® wireless Internet, and its Optimum Lightpath® integrated business communications solutions. Cablevision also serves the New York area with compelling local content through News 12 Networks, a local news leader; MSG Varsity, a suite of television and online services covering high school activities; and, Newsday Media Group, a business unit that includes Newsday, Long Island's leading daily newspaper. In addition, through Rainbow Media Holdings LLC, Cablevision operates successful programming and entertainment businesses, such as AMC, IFC, Sundance Channel, WE tv and IFC Entertainment. The company also owns and operates Clearview Cinemas, which includes Manhattan's famed Ziegfeld Theatre, a frequent and historic venue for film premieres and events.
###