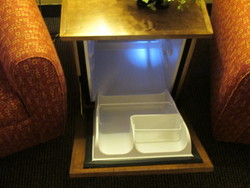 "It is an oasis of manhood in my wife's living room"
Kansas City (PRWEB) November 12, 2010
For every man that has yearned for a beer while not missing a second of the game and every woman who wants a living room that looks like a living room, a new product on the market may be the furniture equivalent to a compromise.
A Man Table is a dual-purpose product that pleases both husband and wife. The Man Table is essentially a mini-fridge designed to accommodate up to 50 12 oz cans. One stylish distinction sets it apart; it is encased in handcrafted custom cabinetry, designed to blend in to any tastefully decorated living room. It's the Trojan horse of the discerning beer drinker.
Man Table inventor and designer Tom Stein says that this concept is designed for the considerate husband. "It bridges the gap between what you want as a man and what you need as a husband," he says. His idea is to hide a man cave in every living room while maintaining a sleek, design oriented aesthetic.
The stat sheet on Man Tables, like any major player, is impressive. The unit, in addition to the 50 12 oz cans, can also accommodate two 750 ml bottles in the door. It also features a movable shelf unit for complete customization. The cooler is equipped with an LED light for illumination and features green cooling technology, which operates without Freon.
The Man Table keeps your beer right at the optimum drinking temperature of 38-40 degrees. The unit swings open from top to bottom, much like a dishwasher with a safety stop at 75 degrees, to insure that there are no messy spills. Man Table is also whisper quiet, doing all the work of keeping you happy at below 15 decibels.
For the ladies, Man Table features rugged hardwood construction that stands up to use. The sleek design fits into any décor. Man Table is available in three sleek finishes with complimentary hardware: tobacco, walnut and black. It features 1.68 cubic feet of space inside and measures 21 inches wide by 20 inches deep. The unit stands 24 inches tall.
Man Tables are available for pick up in the Kansas City area or may be shipped any where in the continental US. For more information visit http://www.mantables.com.
###